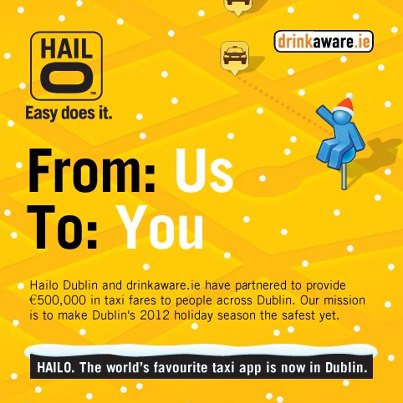 Over €500,000 worth of taxi vouchers are being distributed by bars, clubs and restaurants across Dublin this December as part of a joint campaign by drinkaware.ie and Hailo. The vouchers allow customers to claim €5 off their taxi fair. These vouchers will be exclusively available to Jo'Burger Town, Jo'Burger Rathmines, Skinflint, BEAR and Crackbird customers from December 5th, as well as additional participating Dublin venues for the rest of the month.
The campaign aims on promoting a great night out, while reminding people to pace themselves and ensure they get home safely. With lots of Christmas parties, family dinners, and get-togethers, we need to think about how much we are planning on drinking and how we are going to get home.
Planning ahead is one of the main focuses of the campaign, ensuring that you don't go overboard and get home safely. Over 100,000 wallet-sized cards, each containing €5 discount voucher for a Hailo taxi, will be available to people in Dublin.
You can download the Hailo app from hailoapp.com and pick up a voucher from participating venues in Dublin. Voucher codes can also be downloaded from the drinkaware.ie Facebook page at
facebook.com/drinkaware.ie