Fruit Heroes, Denmark's top-selling lunchbox snack, has come to Ireland!
With many schools now banning chocolate and sweets from lunchboxes, Fruit Heroes have come to the rescue of Irish mums, by providing them with a convenient, natural and healthy lunchtime snack for their kids. Perfect for having in the car or handbag as an on the-go snack. Fruit Heroes come in handy for mums looking to encourage younger children to eat a well-balanced and nutritious diet as early as possible. So are ideal as a natural treat for toddlers.
Simply designed with a fun cartoon character to reflect the pure and simple ingredients, the Fruit Heroes range features great tasting, healthy and natural pure fruit bars in four flavours - Apple & Raspberry, Banana and Blackcurrant varieties.
Each Fruit Heroes bar is made from freshly picked and sun-dried fruit that is pressed into shape to create a delicious, pure and healthy snack. With no added sugar, preservatives, colourings or artificial ingredients, each Fruit Heroes bar has a high fibre content that includes 93%-97% real fruit, plus sunflower oil, providing one of the recommended five a day. Not cooked or baked and made from only natural ingredients, Fruit Heroes are also suitable for vegans, vegetarians and coeliacs.
Fruit Heroes is the number one lunchbox snack in its native Denmark and one of the country's best-loved brands, with 32 million Fruit Heroes bars consumed last year. Fruit Heroes are available in Ireland as a five-bar multipack in selected Tesco stores around the country.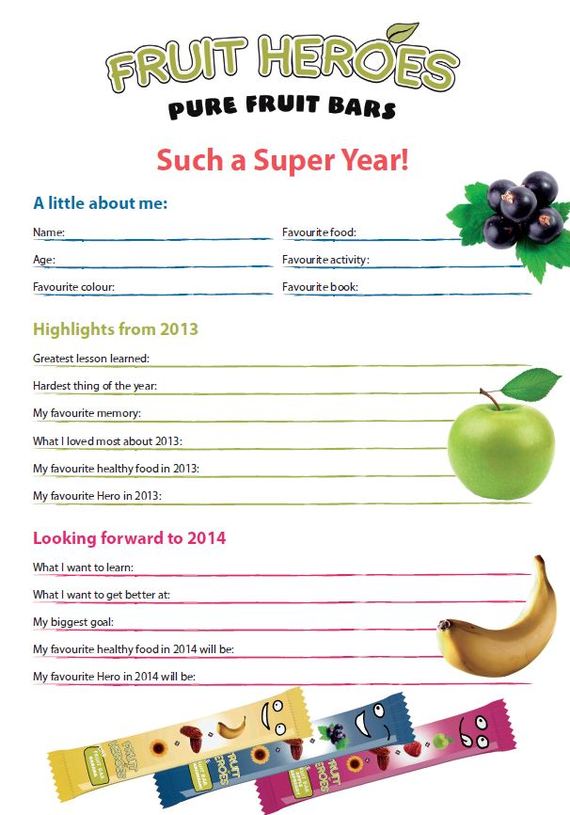 Enjoy time with your little one while remembering all the great things that happened last year and plan for more great things in 2014. Download and print
here
.
To be in with a chance to win a hamper of Fruit Heroes goodies -
click here
.