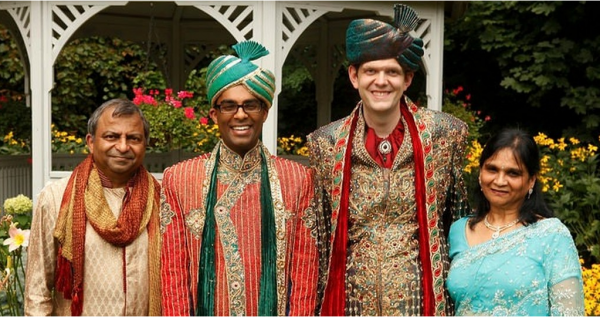 The story of these parents and what they did for their gay son is inspiring people around the world.
Rishi Agarwal's parents Vijay and Sushma emigrated from India in the seventies but were adamant that Rishi and fiancé Daniel Langdon would have a traditional Hindu wedding.
Despite the fact that homosexuality remains illegal in India, the parents wanted the two grooms to perform all the rituals of a traditional Indian ceremony, including exchanging floral garlands and getting matching henna tattoos.
Rishi came out to his parents in 2004 which was initially a huge shock to the parents but that it would not cause them to turn their back on him.
Talking to Scroll.in, Rishi said:
"It was a tough time for me. It struck home - the feeling that I am never going to have a family wedding, marry the person I love, and share that.
"It was hard to accept."
The thought of telling his parents this news was a huge worry for Rishi, but his father turned to him as he heard the news and said the most touching thing.
"You're still our son and we love you. This is strictly our baggage, which we bring from India."
Organising the wedding proved difficult however, as seven Hindu priests refused to marry the couple in a traditional wedding.
However, the parents persevered and eventually enjoyed watching as their son was married to Daniel.
The story has been shared by news outlets around the world and Rishi's parents are being praised for their love and understanding despite their strict upbringing.
SHARE if this story made you smile.