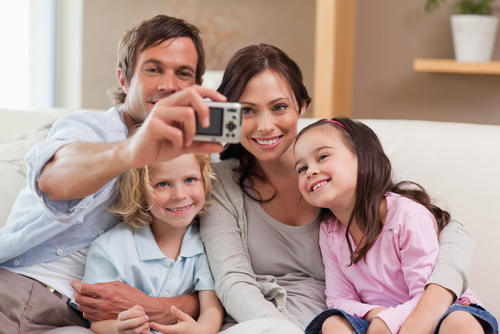 Family portraits are great, but with digital cameras aplenty and most smartphones having a pretty good camera, there is no need to head to a studio.
They are many ways to capture a moment in time to treasure forever, but are also good for pulling out in a few years to have a chuckle over too. Getting the whole family to pose and smile at the same time can be a pretty stressful experience, so follow these 5 tips for a perfect family snap.
Squish together
Put your arms around each other and squish in together really tight. Having space between each person makes the image look too formal, so get everyone to stand close together. Putting your arms around each other, will make the picture look more natural.
Check for blinking and red eyes
In today's digital era it is pretty easy for you to check your photos, and even fix them, before printing. Before you tell everyone 'that's a wrap' have a quick look through the images to make sure everyone is looking at the camera and that nobody is blinking or mid-sneeze, neither looks very good.
Have some fun
Avoid the serious, standing up straight posing shots, instead opt for something a little more natural. For example, before you take the shot, shout 'jump' and snap everyone mid-air or get everyone to walk around and catch them this way. Why not ask kids to get on the adults backs? Whatever you go for, make sure the snap looks like you're having fun.
Go click crazy
The best photos are usually the ones not planned and when everyone is in a natural state. Sitting around the dinner table at Christmas always makes good keepsake. No need for forward planning or poses, all everyone needs to do is turn their head and you can get snap happy.
Don't be too bossy
Remember, the snap is meant to be fun so don't become too over-powering or bossy. If someone has another idea for a pose or group shot, go with it. You never know, it might be the best snap you will ever take.