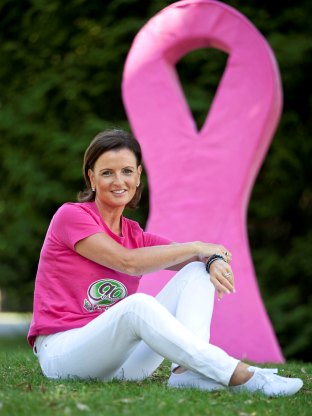 The Go Ahead Walk for Life takes place on October 6th in aid of the Marie Keating foundation. The event is o raise funds for cancer and is a family friendly event open to people of all ages and fitness levels.
The third annual Go Ahead Walk for Life will take place in the Phoenix Park on Sunday October 6th at 10.30am. This scenic 5k event is a great day out for all the family, as participants can walk, run or jog their way around the track. In previous years, there have even been some four legged participants!
The Marie Keating Foundation has been helping people all over Ireland in their fight against cancer and the annual Go Ahead Walk for Life helps raise some much needed funds in the battle against this illness.
Campaign ambassador Yvonne Joye is living proof of early detection, having being diagnosed in 2009 with breast cancer. Today, she is thankfully cancer-free, celebrating life and helping others by sharing her story as the face of the 2013 Go Ahead Walk for Life.
Just before starting off on the Walk for Life, participants can take part in the heart-warming 'Balloon Release', writing the name of a loved one on their balloon which is provided on the day and releasing it in to the air! The Lucan Gospel Choir will be on hand to lift spirits, serenading participants as they take off from the start line and as they make their way around the track. Q102's Blue Crew will also be in the Phoenix Park to pump out 'tunes' to keep you motivated along the way!
Registration is open now so go ahead and feel good by registering for this great cause! Registration costs €15 per person, with family and group rates also available. Everyone will receive a Go Ahead Walk for Life t-shirt, goodie bag and plenty of tasty Go Ahead treats on the day!
There's never been a better time or a better reason to dust off those walking shoes – log on to
www.mariekeating.ie
today and sign up for the 2013 Go Ahead Walk for Life, October 6
th
.
July 2013