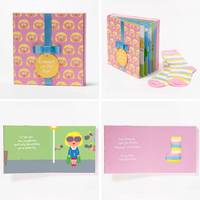 'A present for my Mum' is an ideal gift to make any Mother's Day special. This children's book, created by one of our lovely MummyPages mums, Louise, tells the story of the journey a child makes while deciding on a present for their Mum. In the end they get them a gorgeous pair of stripy socks.
These books are so beautifully presented, they are bound to put a smile on Mum's face. They come wrapped, along with a gift tag to sign on the front and there is also a fun pair of socks - so every element of a gift is covered.
'A present for my Mum' is part of a range of eight books in the 'A present for my…' range. They are all gifts from little people to big people.
They are available at Easons, Avoca, Carraig Donn, Kilkenny, lots of independent bookstores around Ireland and on Amazon. They retail at €12.95.
We think it's the perfect gift for Mother's Day.