Mum's Say Trial: Robert Roberts Apple Flavour Detox Infusion Tea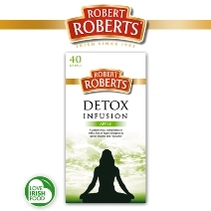 Join this group
Feeling great starts with small steps – like choosing the stairs instead of the lift or healthier snacking. Some steps are easier than others like swopping your mid-morning cappuccino for a tasty infusion like Robert Roberts Detox.
Although it has a base of 40% nettle and is combined with hibiscus, verbena, peppermint and dandelion to gently cleanse and rebalance, Robert Roberts have infused their detox blend with apple for a refreshing clean taste. As it is caffeine free you can enjoy it every day. (You will also be helping to support Irish jobs as Robert Roberts blend and pack their teas in Dublin)
We are looking for 45 mums, who would like to trial Robert Roberts Apple Flavour Detox Infusion Tea and Blackcurrant flavour Pu-erh Tea. If you would like to take part in this Mum's Say trial, simply join this group and leave a comment below. In the case where we are over-subscribed, we will select 45 mums at random.
Recruitment for this group is now closed.
If you would like early notification of new group trials, please visit this page and join the group where you will get early email notification once new groups are live.