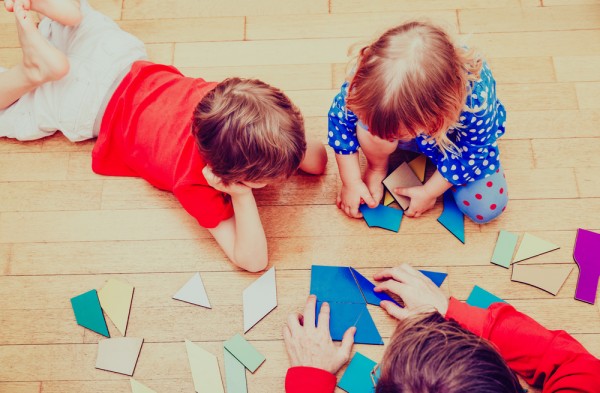 Let's be honest - when it comes to children you take ALL the help you can get.
That includes when it comes to the financial implications of raising your little ones. Education is a necessary (and expensive) part of preparing your child for the world.
But it can often be very confusing when it comes to knowing exactly what you are entitled to, and to go about finding information that is easily digestible - especially when you are knee-deep in the chaos that comes with little people of a certain age!
That is why we have put together an easy-to-follow guide to these family-friendly supports:
ECCE:
This programme stands for the Early Childhood Care and Education. It is designed to give children, between the ages of 3 years and 5 and a half-years, a period of free care at participating play schools and daycare services. Since September 2016, children may avail of an average of 51 weeks of pre-school over a 2 year period. The number of weeks will depend on whether a child enters in September, January or April.
It can be quite confusing sometimes, but in general, if your little one attends play school for a half-day, you are entitled to 3 hours free per day, 5 days a week over the school year.
If your child attends for more than 3 hours, you will be charged for the extra time. If the service only opens 4 days a week, you are entitled to free care for 3 and a half hours a day for those 4 days.
If your child is in play school or daycare full time, you are still only entitled to 3 hours free per day over the school year. Any extra will be charged to parents. If your daycare runs for longer than the school year, you will also be charged for the extra number of weeks attended.
To be eligible for the scheme, the play school or creche is expected to follow an educational programme for pre-school that is approved by Síolta - the national guideline for early education.
Most of the service providers will carry out the necessary paperwork for you and you can find a list of those participating here. There is a very useful link to seeing if your child is the right age for the scheme here.
It is worth also knowing that if your child has special needs they may be able to get an exemption from the upper age limit for the ECCE programme but there are no exceptions for the lower age (3).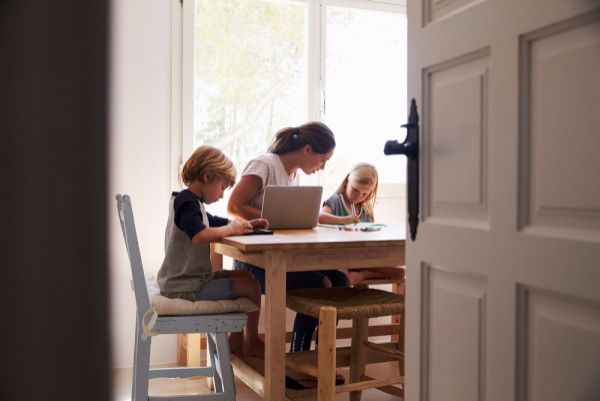 FAMILY INCOME SUPPLEMENT
This is a payment for those who are on low income and who have children to support. Those who are self-employed are not entitled to receive this payment. It is tax-free and paid weekly.
Some of the requirements are quite specific, for example - you must have at least one child who lives with you or that you support financially. The child must be under 18 years old, or between 18 and 22 years old in full-time education.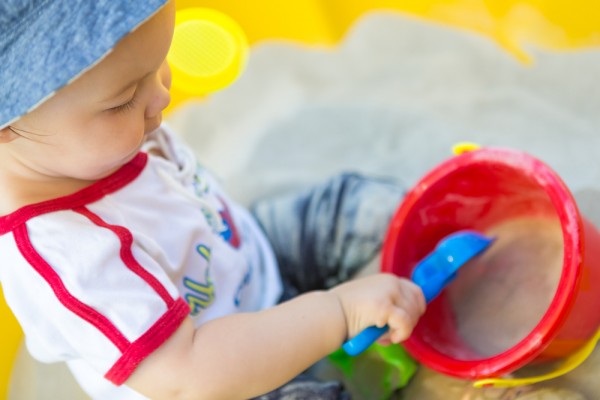 To qualify, you must work any combination of hours that adds up to 38 hours every fortnight. (You can also use your spouse or partner's hours to meet this condition) You also need to work in Ireland to receive this payment. If you qualify you can expect a minimum payment of €20 per week.
So how much are you entitled to?
Well, this payment is calculated on the basis of 60% of the difference between the income limit for the family size and the assessable income of the person applying. In short, take away the amount you earn per week from the Governments set 'family limits' in the table below. Then you are entitled to 60% of that.
This chart breaks down what you may be entitled to: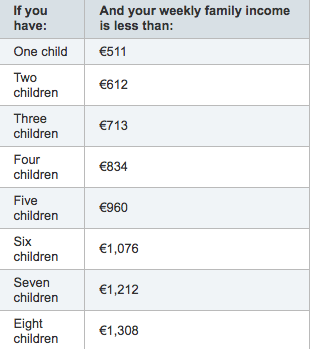 The income limit for a family with one child is €511.
So if you have one child and your weekly family income is €335 per week, you are entitled to 60% of the difference between the family limit (€511) and your earnings per week (€335). In this case, it would be 60% of €176 which is €105.
You can see the full list of family limits here
You may also be entitled to other supports so check out your eligibility here