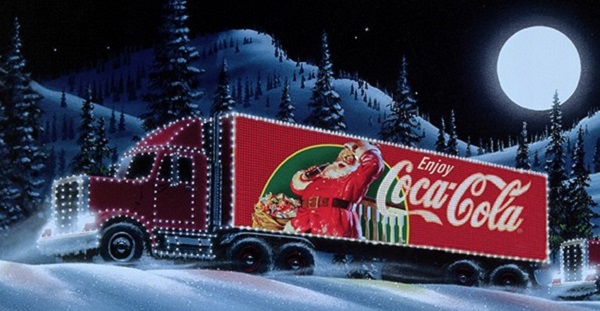 Many people refer to it as one of the first real signs that Christmas is on the way, and now families are going to be able to experience the magic of the Coca-Cola truck first-hand!
The iconic truck from the 'Holidays are coming' ad is set to arrive in Ireland at the end of this month and will be stopping at various destinations around the country.
Sources this morning have confirmed that the Coca-Cola truck will be starting an Irish tour on Friday, November 27, hitting 16 locations until the end of its run on December 21.
A lovely treat to get the entire family into the festive spirit, you will be able to check out the truck up close while enjoying the sounds of a Christmas choir.
Little ones will also be excited to hear that there will be festive games to play, and they will have the chance to get their picture taken with the iconic truck.
Check out the following schedule to find the closest tour stop to you:
November 27: Tesco, Tullamore Retail Park, Co. Offaly
November 28: Tesco Extra, Powerscourt Centre, Clonmel, Co. Tipperary
November 29: Tesco Extra, Carton Park, Maynooth, Co. Kildare
December 3: Tesco, Killarney, Co. Kerry
December 4: Tesco, Wilton, Co. Cork
December 5: Topaz/ Supermac's, Tipperary Town
December 6: Supermac's, Co. Galway
December 10: Tesco Extra, Dublin Road, Dundalk, Co. Louth
December 11: Tesco Extra, Malahide Road, Dublin 17
December 12: Tesco, Naas, Co. Kildare
December 13: Tesco Extra, Distillery Road, Co. Wexford
December 16: Odyssey Arena, Belfast
December 18: Supermac's, Ballindine, Co. Mayo
December 19: Supermac's, Monasterevin, Co. Kildare
December 20: Supermac's, The Barack Obama Plaza, Moneygall, Co. Tipperary
December 21: Supermac's, M1 Retail Park, Drogheda, Co. Louth
Each event is set to run from 4pm to 9pm, except for the Belfast tour which runs from 12pm to 8pm.
Enjoy!