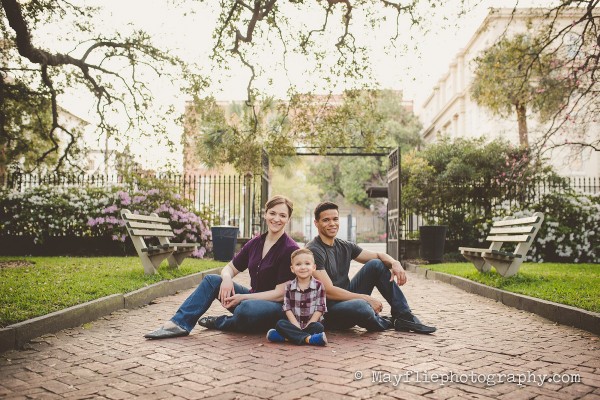 For children of divorce, only seeing one parent at a time can almost feel like living a double life.
Mum-of-one Victoria Baldwin says she felt like that when she spent periods with each parent, but never together. Looking back at her family photos, either her mother or father was absent.
When the professional photographer divorced her husband, Adam Dyson in 2015 after three years of marriage, she vowed to ensure that her son would have memories of both parents together.
Baldwin and Dyson are parents to 4-year-old Bruce. Though they are no longer living in the same state, both parents set time aside to be photographed together.
Writing on the Love What Matters Facebook page, Baldwin explained this unlikely setup: "The top two photos were taken when Adam and I were married. The bottom two, taken nearly one year and over two years after our divorce was finalised.
"We are not in love, we don't always agree, we're not best friends, sometimes we don't even like one another. But you know what we are? We are forever connected because of our beautiful, smart, kind, compassionate, funny son."
Baldwin said she was committed to keeping the family together, even though she and Dyson no longer live in the same state and Bruce has to spend longer periods alone with each parent.
"Adam and I are not perfect co-parents, but we made a deal when we got divorced, to put our son first. So yes, we still have a family portrait taken, and I still pay good money to have the images printed, framed, and placed in our son's bedroom."
Hoping to avoid hurt feelings and bitterness that can arise from a divorce, Baldwin wrote: "He may not grow up with parents who live in the same house... but he will grow up to see respect, kindness, empathy, compassion, perseverance, flexibility, and even sacrifice being modelled by both of his parents and he will know it is possible to fall out of love but never fall apart."
The photos have gone viral, with many commenters praising Baldwin and Dyson's commitment to Bruce's happiness.

She told the Huffington Post about the dedication both parents made to keeping their relationship amicable: "We go above and beyond to include one another because we are not simply ex-husband and ex-wife ― we are parents to Bruce, first, foremost, and most importantly."