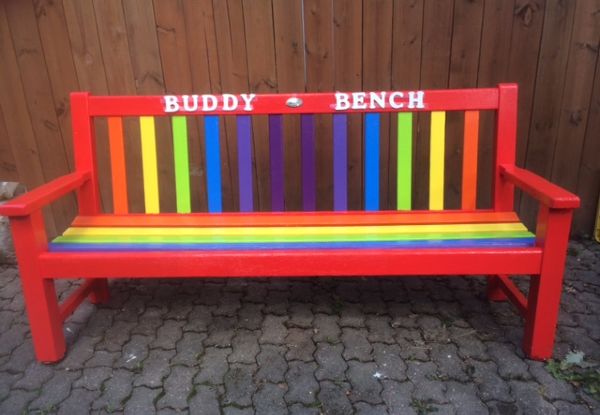 It's something all parents worry about when they send their little ones off to school – will they make friends? Will the other kids be kind? How will they handle themselves in the playground?
Sam Synott is a mother who knows this feeling all too well.
Five years ago, when her lovely daughter was just six-years-old, Sam's marriage broke down and she went through a very difficult time.
"At the time, my daughter was not socially or emotionally intelligent, so we really struggled to communicate with each other," explained Sam.
Seeking the support of Barnardos, Sam's daughter was enrolled in a programme for 12 weeks, where she would learn how to cope with her parents' split, and how to communicate effectively with her mum and peers.
"She honestly came out of the programme a completely different child."
It was this programme that sparked an idea in Sam, who with the help of her friend Judith Ashton, developed the concept of Buddy Benches - a form of which existed in the US.
They felt there was scope for a programme such as this in Irish schools.
"I just decided that these sort of communication programmes should be the norm for all children, as part of their education. It should not just be for those who have gone through a difficult time."
Judith and Sam, who is a Marketer by trade, put their heads together and came up with a wonderful programme for children in primary schools. The idea is based on the theory that if kids are taught how to talk about their emotions at a young age, the mental health of Ireland's population could be improved – and it is working surprisingly well.
The brilliant duo developed programmes for schools which promote emotional resilience that introduces children and young people to a shared vocabulary for expressing their emotions, through visual tools, learning and role play. As part of the programme, a colourful Buddy Bench is placed in the schoolyard as a visual tool.
The Buddy Bench acts as a symbol of kindness, and kids are encouraged to sit on the bench together and talk about how they are feeling in a positive way.
It is also a signal to let others know that you are feeling down, alone or upset. The idea is that children learn empathy and step up to help others who may be having an off day.
Eileen Bolger is the Chairperson of Cushinstown National School's Parents Association in Wexford where the Buddy Bench scheme has proven to be a major success. The mum-of-three explained that a number of people had been calling on the school to introduce some sort of mental health regime into the school curriculum.
With that, Eileen approached Sam about Buddy Benches, and a programme was introduced for kids in junior infants up to second class. Initially, there were some children that were rather apprehensive about the concept of sitting on the bench, as it was awkward.
However, the bench has since become a safe place for the young students, and apparently, it has become rather "cool" to spread kindness and look out for others in Cushinstown National School.
With the growing popularity of social media, and the constant need for instant gratification that young people have, schemes like the Buddy Benches are crucial.
It is so important to re-enforce kindness in our wonderful young people, but to also remind them that nobody is perfect, and it is "okay not to be okay." It a subtle way to instil wellness in young children, that will ultimately stand to them as they venture into adulthood.
What do you think mums? Do you think the Buddy Benches should be rolled out as part of every school's curriculum?