Mums across Ireland have will no doubt be familiar with the following scenario: Your kids run in complaining that the TV isn't working and you soon realise a switch has tripped. You then find yourself staring at the fuse box bewildered and unsure of what to do. Or you have just bought a new painting for the house but your husband takes weeks to find the time to put it up.
Well you will no longer have to rely on your other half to take care of those DIY jobs around the house – you can now do them yourself with Woodie's DIY and Garden Centres "How to DIY" videos.
This new online DIY resource includes over 100 detailed, step by step videos which will enable you to complete a wide range of DIY tasks in the home and garden.
Whether you want to know how to change a plug, hang a door, bleed a radiator, or replace a toilet seat, all your DIY questions will be answered simply by clicking on
www.woodiesdiy.com
. From the very simple to the more complex tasks, these videos cover all areas of DIY.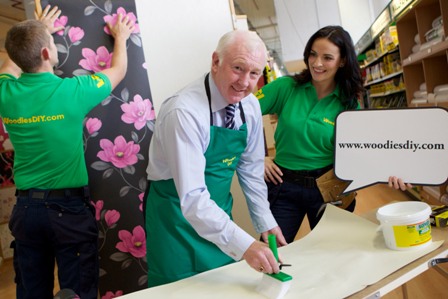 There is also a range of useful videos entitled "How to choose" which guides customers through the task of shopping for DIY accessories, which can be daunting to first time DIY'ers.
These videos are presented by real DIY experts, Trevor Goulden, Ruth Smith, Les Swarbriggand Paddy Gleeson who talk through each step in great detail, making DIY tasks easy to understand and achievable even for a DIY novice.
Woodie's DIY has also introduced QR codes in-stores to make the videos more accessible for customers, when shopping in-store. Throughout Woodie's DIY stores customers can now find dedicated QR codes in the aisles, which will direct customers to the DIY clips relevant to the product they are browsing. Customers can download a QR code reader app on their Smartphone and scan the codes located in-store and will instantly be able to view the DIY hints and tips videos.