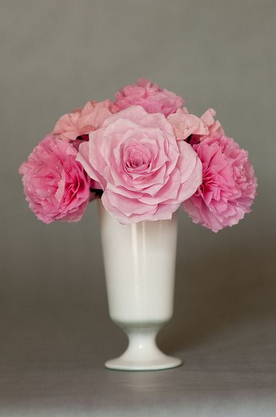 Real flowers bring colour and gorgeous smells to a home but they can be expensive, especially if you are buying them frequently. There is an alternative though and it is actually a lot of fun – simply make tissue paper flowers.
While not quite the same as real ones, these tissue paper florals look just as pretty, will last a lot longer and you don't have to keep topping up the water.
You will need 5 sheets of coloured tissue paper, wire and pipe cleaner:
Step 1
Stack the tissue paper on top of each other, ensuring it is touching end to end. It doesn't have to be particularly neat.
Step 2
Fold the stack of sheets like you would a fan and continue right until the end. Now you need to fold it in half.
Step 3
Wrap your piece of wire through the fold and twist it tight. Wrap it back around itself - this should help it to keep its shape.
Step 4
Pull apart the fan to make your petals. Adjust until they resemble a flower.
Step 5
Wrap your pipe cleaner around the wire for the stem.
Repeat this until you have enough flowers to fill a vase.
image via Pinterest