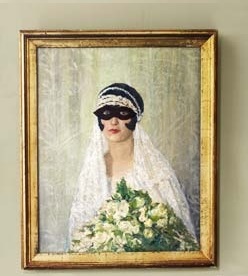 To give your house a real Halloween feel, turn your ordinary everyday pictures into something really scary.
What You'll Need:
Black paper
Scissors
White sticky adhesive/ sellotape
White chalk
Black ribbon and beads
Instructions:
Decide which pictures you are going to cover.
Determine the size of the mask you want and how much of the picture you want to cover.
Cut the mask shape out of the black paper and u

se the chalk to smudge some white around the edges to give an older look.

You can even decorate some of the masks using the ribbon and beads.
Use sticky adhesive to secure the masks to the glass.
These are great if you are decorating in a hurry or at the last minute.