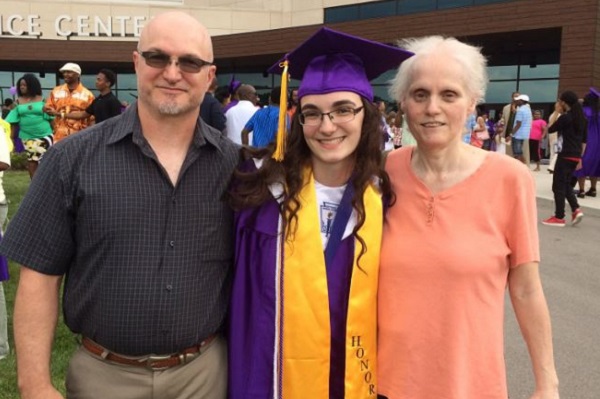 Hannah Summers and her siblings were distraught when their mum Peggy passed away after battling kidney cancer since the summer of 2016.
Before she died, their mum wanted to make sure that her children knew how much she loved them and how important they were to her. During her final days, the mum penned a heart-breaking letter to her daughter which is full of words of wisdom.
She hoped the letter would make her feel the smallest bit better, despite their family's heartache.
Hannah bravely shared the letter on Twitter and her mum's advice has left us in floods of tears.
before my mom passed she wrote us all letters. this is mine. please hug your parents a little closer and never take them for granted because you never know when you could lose them. I love you momma. pic.twitter.com/e2TZtg92bK

— hannah summers (@_hannahsummers) November 1, 2017
Peggy wrote about her fight against cancer, unfortunately, the 55-year-old's surgery was not a success. She shared, "Bad things happen in life and we have to learn to deal with it no matter how much it hurts."
Peggy filled the pages with words of love and support. The mum asked her daughter to take care of her dad. As a parent, he is responsible for looking after his kids during such a traumatic time, but his heart was broken too. Peggy knew the support of their kids would help get him through the dark days.
"Be patient with dad. You both need to lean on each other and talk a lot which is not one of your strong points but try and doesn't give up."
The late mum asked her daughter to be the responsible young woman she raised her to be. Peggy shared some advice with her that we've all heard our own mums say.
mom appreciation post because she's my best friend & I miss her being happy and healthy. I know God has a plan but sometimes it's so hard to understand what He has in store. #peggystrong pic.twitter.com/EnknGYigqr

— hannah summers (@_hannahsummers) October 5, 2017
She warned Hannah about parties and relationships and told her to keep her head down in school, "If you can carpool to school do it. Stay away from parties because they are usually bad, not all boys are bad, but most will tell you anything to try get you to do things."
Peggy encouraged her daughter to pursue her dreams. College may be the last thing on her mind right now as she grieves for her mum, but Peggy reminded her that despite the heartache, you must follow your dreams.
"You will be a wonderful nurse just as you are a wonderful person. Study hard in school," the mum wrote.
The final words of Peggy's letter have broken our hearts, "You are going to do great in life and I will be smiling with you through all the important moments. Remember that I love you more than you will ever know."
The advice her mum has shared with her will be familiar to many daughters. Peggy's letter has shown us that even if your mum isn't here anymore she will always be there to love you, to guide you and to support you through every moment of your life.