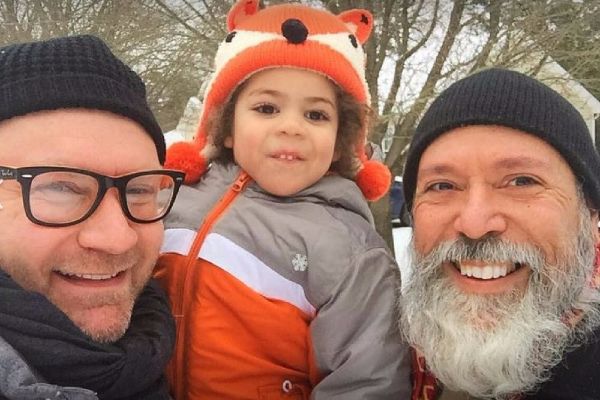 Dad-of-one Henry Amador-Batten had a sad and stressful trip to Puerto Rico to see his ill father who had since died. He was looking forward to arriving home with his son Ben and seeing his husband Joel.
Ben drifted off to sleep aboard the United Airlines flight they were travelling on and woke just before disembarking in North Carolina.
Henry was ready to make his way home when, to his horror, police officers stopped him and detained him in front of his young son. He couldn't figure out what was wrong or why they had stopped him.
He was disgusted when he found out that a member of the flight crew had made an allegation against him. The flight attendant said he'd noticed Henry's hand and arm had draped across Ben's lap while he slept.
The airline worker who made the complaint alleged that Henry's hand had been "too close" to his son's genitals. When Henry realised what he was being accused of, he was enraged.
"I was scared of what might happen to my family," Henry told ABC11. "I was scared that the next step was that I would lose my son."
Meanwhile, his husband Joel was waiting anxiously to meet them outside security, not knowing what was happening.
Henry produced their passports to prove he was indeed Ben's father, and explained that Ben was scared of flying, so he put his hand on the child's lap to comfort him.
Henry remembered there had been one male flight attendant on board who he felt treated him differently, and suspected this man of making the complaint. When he made a complaint of his own, however, he was "promptly sent on his way".
Later that night, Joel posted an update to the pair's parenting blog, Dadsquared.
He spoke of his anguish at how his husband and son had been treated and explained there were long-term consequences involved for the couple.
"My husband and I are parents. We are foster parents. We are in the process of adopting our second son. We are mandatory reports (sic) for any abuses that we might suspect are going on with children that we may come into contact with," he wrote.
"This misguided man's assumptions about my husband and the accusations that he made are completely unfounded and we plan on getting up bright and early in the morning to make as much noise about this as I possibly can".
The couple now plan to take legal action against United Airlines.