Irelands first inflatable theme park has now opened on the Nangor Road just off the M50.
What is a parent's main goal during the holidays? Let's be honest: Whether it be the Christmas holidays or a long weekend, parents everywhere will be making efforts to EXHAUST their little ones during the day by filling it up with activities. We all know that feeling when you finally have them ready for bed, only to notice they are suddenly full of beans. Finding ways to keep your kiddos active during the day can pave the way for some me-time in the evening and ensure your children are at their best come morning. So, if you like many parents are racking your brain to think of ways to keep the little ones entertained this festive season, look no further than Inflata Zone, Irelands very first inflatable theme park.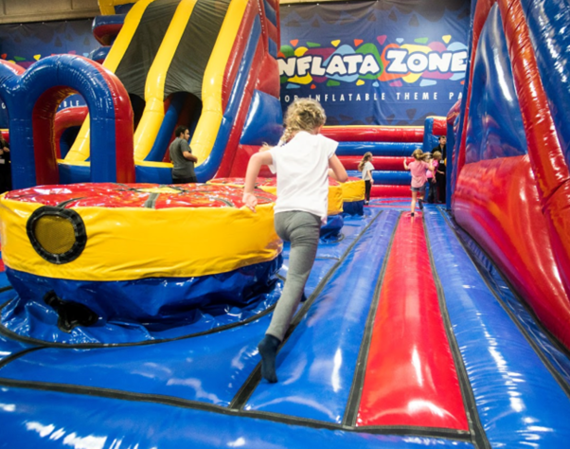 Located on the Nangor Road just off the M50, Inflata Zone is a paradise for active kiddos who just want to have fun. Watch their little faces light up when they see the size of this incredible inflatable theme park. The park takes up as much space as 5 tennis courts, with 10,000 square feet of inflatable to bounce on. It houses a ninja assault course, an obstacle course, 5 metre drop slides, a climbing wall, air mountain, a duelling ground and much, much more.
Perfect for those cold afternoons that need to be filled with fun activity, you can book an hour or an hour and a half for your kids and their friends, so they can bounce the day away. There is also a an under 4s area that is ideal for your littlest little one, meaning no one misses out on this bouncy adventure!
Inflata Zone is also the perfect place to host your kids party. No mess, no fuss, you simply book and invite your guests and the staff at Inflata Zone will take care of everything. This unique party option means that your kids and their pals will be among the first in Europe to experience this new way of celebrating. The impressive facility on Nagor Road can accommodate parties from 10 to 100+ people and kids must be between the ages of 4 and 12 years old. Parties are 1.5 hour or 2 hour long and includes your own private host to help things run smoothly. Spend 60 or 90 minutes on the inflatable and after bouncing you will have access to your own private party room for food and refreshments.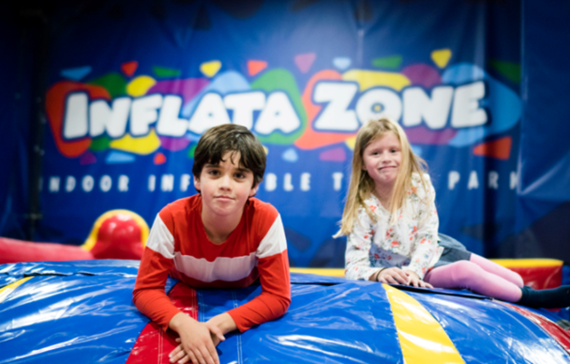 You can book and Open Bounce to entertain them during the Christmas break or book a unique party at Inflata Zone today. Full datils can be found at
www.inflatazone.ie
.