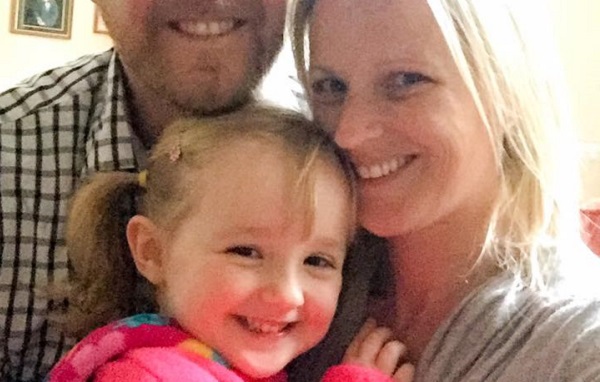 There has been a lot of conversation about mental health and the importance of providing related services, and a number of strong voices have emerged to inspire the masses; Sinéad Hingston is one such figure.
The devoted mum took to Facebook to share her story of love, loss and hope, and her inspiring personal account and words of encouragement have made her a viral sensation this week.
In her post, Sinéad explained how, just seven months into their marriage, her husband Geoff passed away while they holidayed in Portugal. She was 19 weeks pregnant at the time – something which, she admitted, was the 'only thing that kept her here'.
Facing into the reality of moving back home to her parents and having a child without her beloved partner, it wasn't long before Sinéad started to feel 'a wave of darkness' wash over her. Indeed, she revealed that she doesn't remember much from the aftermath of Geoff's passing – until her waters broke and she gave birth to their daughter.
"There it was. The moment I had been waiting for, to hold our beautiful baby, the one we had made together, the reason I was still here! I had no idea how I was going to do this, but with my mum and sister by my side, she made her appearance," she recounted.
Of course, it wasn't smooth sailing from there for Sinéad, whose relief and joy were still tinged with 'devastation'.
"She survived 19 weeks of me crying, unable to eat, unable to breathe, panic attacks. She was perfect. But he wasn't here. Nothing could have prepared me for that bit. The pain in my heart that he would never get to meet her," she added.
Now four years old, Sinéad's daughter is described as 'the light in her world', and the doting mother is grateful that she 'forced herself to live' for her little one.
Having come through such tragedy to emerge strong and happy once again, Sinéad decided to share her experience to reassure, inspire and encourage others going through dark times in their lives.
"There is always hope. Time is a wonderful thing we all take for granted in everything we do. I have my ups and downs. I'd be lying if I said that I had never thought about how much better off everyone would be if I wasn't around, but those thoughts pass. There are days where I really just want to curl up under a duvet and not leave the house, but I make myself, because I know that feeling will pass, I know things get better, I'm living proof. When you hit the bottom, the ONLY way is up again," she wrote.
She also had some sound advice for anyone feeling like they, themselves, are at 'rock bottom'.
"When you are feeling like this is it, like you can't do this anymore, just wait...Just take your time. Take a deep breath and surround yourself with the people/things that make you feel better, that make you feel happy. Talk to people - they will want to help but they need to know you feel that way…Do that for as long as it takes, because time will help you rebuild, it will help you feel better. That I promise you," she added.
SHARE to spread Sinéad's important message with someone who may need to hear it.