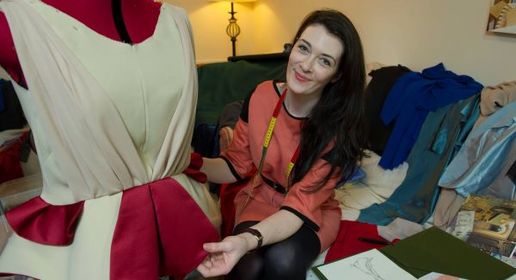 Over the past few weeks we have been closely following the Irish feel-good success story of film producer Fodhla Cronin O'Reilly whose animated short film has been nominated for an Oscar. Fodhla hails from County Kerry and has chosen young and upcoming Irish designer Laura Jayne Halton to design her dress for the prestigious ceremony.Laura Jayne's designs are the embodiment of timeless, effortless chic. As a designer, she shies away from over embellishment and instead allows the simple elegance of her designs to speak for themselves. She has an impressive portfolio which includes having designed images for the Sarah Jessica Parker Brand and a host of awards including being named "One to Watch" at the Kerry Fashion Weekend in association with Image magazine 2012 and has received a nomination as a finalist in the distinctive Peroni Nastro Azzurro Moda Awards in association with Marco DiVincenzo. The really remarkable thing is that this is only Laura Jayne's second year working as a fashion designer.
We were delighted when the lovely Laura Jayne took time out of her hectic schedule to chat to us and we couldn't wait to ask her about how she got started in fashion, that Oscars dress and what's in store for her next. Laura Jayne is on top of the world right now. It was only a few weeks ago that she was joking with friends about one day having one of her designs on that most famous of red carpets. She is quick to admit that she could never have imagined in her wildest dreams that just a short few weeks later she would find herself on a plane to London ready to hand over her finished creation to Fodhla.
Laura Jayne began her career as a furniture designer: "Straight from school, I studied at the national furniture design college in Letterfrack in Connemara which was fantastic." After college, she travelled to Australia where she gained invaluable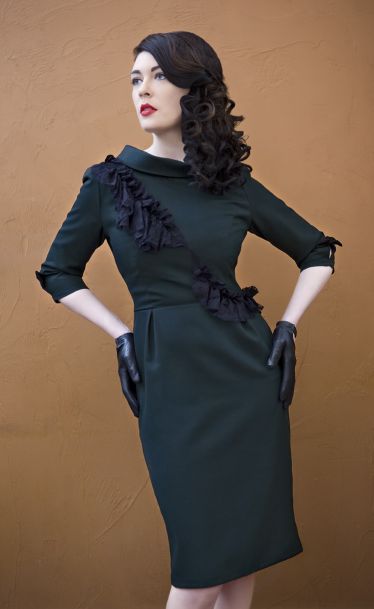 experience in the artwork side of things, did paintings and even worked on the refurbishment of a golf resort. She later worked in New York where she designed a bar and got the fantastic opportunity of designing artwork for Sarah Jessica Parker's fragrance line. She returned home from New York and found that: "the furniture and millwork was largely tied into the construction industry which by 2009 had dwindled due to recession so I decided now was the time to try my hand at being a fashion designer". She enrolled herself in a one year fashion design course in Galway technical institute and the rest, as they say is history.
It's hard to believe from her list of accomplishments that this is only Laura Jane's second year as a fashion designer but as she explains she has always been a "firm believer that if you're going to do something you should just dive in head first!" Laura Jayne has thus far avoided going down the mass produced route and has instead opted to create pieces that are precisely tailored, fit beautifully and that she can be really proud of.
The ambitious young designer, heard about Fodhla's quest for a dress to wear to the Oscar's when she was listening to the John Murray show."When I got back to my studio, I looked up her email and sent her an email offering my congratulations, included a link to my website and a lookbook. I checked my email half an hour later and her stylist had replied by Wednesday. I had sketches drawn up and the following morning it was confirmed." Laura Jayne worked day and night with all "cylinders' blazing" to get the dress ready in time. She then flew to London, dress in hand to meet Fodhla; 'She was lovely, we tried on the dress and I must have a guardian angel watching over me as it fit perfectly.'
Laura Jayne will get the opportunity to see Fodhla in her dress on the special night as she has kindly been sponsored by radio listener James Murphy from Life's Too Good to fly over to L.A. for the Oscars. While she hasn't yet managed to secure an elusive ticket, Laura Jayne is thrilled to just be there to see Fodhla in her dress and hopes to maybe get to a much deserved award party or two!
We asked the incredibly driven and hard-working young designer if she had any advice for any of our mums who are trying to get a new business off the ground or indeed break into the fashion industry and she had this to say; "I would have to say follow your gut, do what your instinct tells you and take every opportunity that you are given and surround yourself with people who like minded people."Laura Jayne is a firm believer that the biggest enemy to success is fear and we couldn't agree more.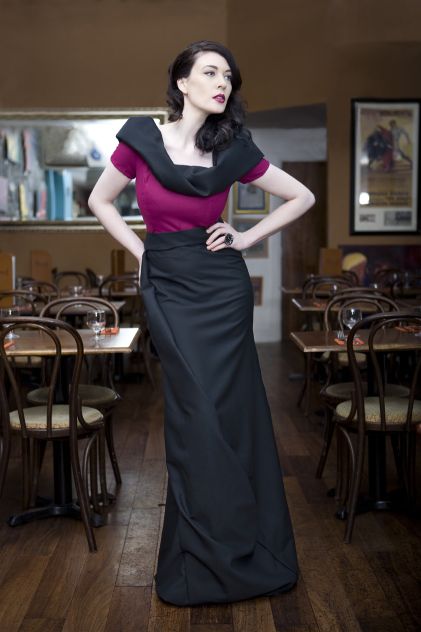 As anyone who is self-employed will know, the isolation can be a challenge. Laura Jayne advocates, 'getting out and about for a walk or having a friend over for a chat' if the solitude is proving too much. Laura Jayne demonstrates that relentless hard work, talent, passion and a creative mind-set is what's needed when trying to get a foothold in any industry.
So where to now for Ms Halton? She certainly isn't stuck for ideas or talent or ambition. She is understandably incredibly positive and while she would love to remain in Ireland she admits that she does have a special affinity for the Italian lifestyle, although isn't making any definite plans.
We were so impressed having spoken to Laura Jayne; she really is an astounding young woman with an incredible spirit and a unique talent. We can't wait to see Fodhla walk the red carpet in what's sure to be a breathtaking creation and have no doubt that we will be hearing lots more about both lovely ladies.
Fashion designer, Laura Jayne Halton is a graduate of the National Furniture College of Ireland, Letterfrack, Co. Galway, graduating in Furniture Design & manufacturing technology in 2004 Laura Jayne has devoted her time to fine tuning her skills as an artist, illustrator and fashion designer. She has lived and worked for years in both Australia and New York City and is now based near Maynooth.
Outstanding achievements include:
Artistic illustrations for Sarah Jessica Parker's fragrance campaign and website
Laura Jayne Halton received One to Watch award at the 2012 Kerry Fashion Weekend in association with IMAGE magazine
Student designer of the year nominee at the Irish Fashion Innovation Awards