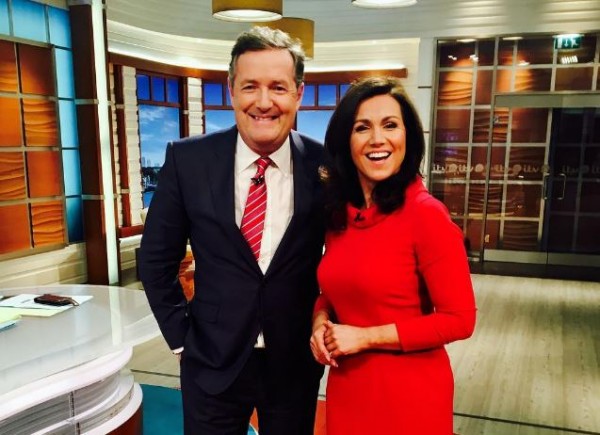 For many of us, St Stephen's Day or Boxing Day as it is known as in the UK is just another day to relax and enjoy family time after the chaos that is Christmas.
However, there are thousands of retail staff that need to go to work - something that Piers Morgan thinks is just encouraging consumerism.
Susanna Reid and Piers were talking to MP Helen Jones on Good Morning Britain, when he said that workers should be allowed to spend time with their family.
Insisting that emergency and essential services should be considered differently, the presenter explained that "no one needs to shop straight after Christmas."
"Essential services are important, but we're talking about people that should be at home with their family. Consumerism is ruining family time and it should be stopped!"
Today MPs are set to debate calls to stop shops opening on Boxing Day - our poll shows 69% of you think shopping should indeed be banned

— Good Morning Britain (@GMB) December 12, 2016
Urging bosses to not let their staff work on Boxing Day, the 51-year-old insisted that by keeping the shops open it is just encouraging people to be "greedy".
Not surprisingly, Twitter was fully supportive of Piers, and followers were quick to make their feelings known.
If your going to put a ban on shopping on Boxing Day then they should ban non league football matches as well. #gmb #familytime #stupid

— Steven Jeff (@liljeffy8) December 12, 2016
This woman on #gmb 'if you work late Xmas Eve, you won't get put on on Boxing Day' Clearly never worked for Next then

— Sophie Lindley (@Soph_Linders) December 12, 2016
Stupid woman on #GMB doesn't have a clue about retail. I'd love to see her working the full day and not spending it with their families

— Olivia Rose Lake (@OliviaLake1) December 12, 2016
I think shops should be banned on Boxing Day coz U only get the dads with 3 teeth that go to currys to get £12.50 off a blaupunkt tv #GMB

— mason rogers (@mase_rogers_) December 12, 2016