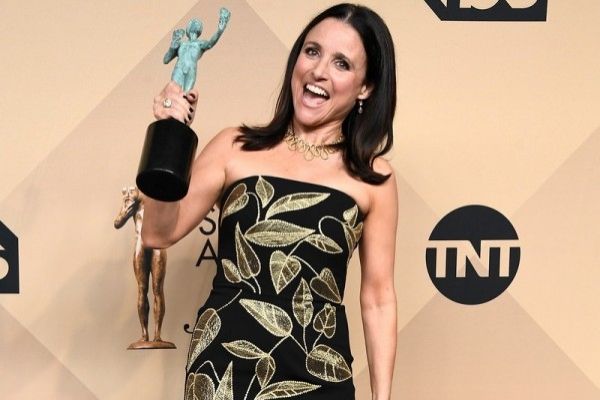 Julia Louis-Dreyfus shared in September 2017 that she had become the one out of every eight women battling breast cancer. Both fans of the actress and people whose lives have been affected by cancer rallied around the Seinfeld star.
After completing chemo last month (which her sons announced with an AMAZING lip sync video), the mum has posted her first post-op pic.
"Hoorah! Great doctors, great results, feeling happy and ready to rock after surgery. Hey cancer, 'F*ck you!' Here's my first post-op photo," the mum-of-two wrote on social media.
We're loving her empowering attitude! Also, the Veep star is positively GLOWING in this photo.
Her followers found themselves inspired by Julia's post, especially those battling cancer themselves.
"Thank you for your inspiration as I go through my own breast cancer treatment. Last chemo on Tuesday, WOOHOO!!" a fan commented.
"You just get more beautiful! What a spirit and example you are for all of us Julia!" wrote another.
"Julia, I will complete my chemo (16 total) next week. A double mastectomy will be about two weeks later, to be followed by 16 radiation treatments," one follower commented.
They continued, "I truly wish you the best with your treatment and surgery and have been following your cancer story. We will both be survivors!"
One person shared how they found laughter to be the best medicine, saying, "When I got cancer (yes, one in eight), you made me laugh. Veep was the best answer to the pain. Now I'm sending you a big hug and lots of healing and health energies!"
It's so very heartening to see how the Emmy Award winner's story has given hope to others in the same harrowing situation.
We send our well wishes to Julia and people everywhere fighting cancer.