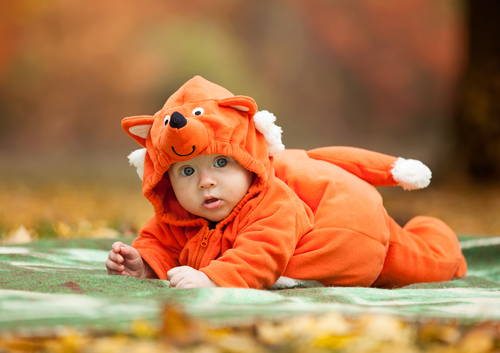 Trick-or-treating is great fun for older children and even toddlers but it is just a normal day for babies. With all the fun and frolics happening, it can be easy for their routine to become disrupted or for them to become frightened by costumes. Unfortunately this can lead to grumpy infants and frustrated mums.
But that doesn't mean you have to leave them at home with a sitter while you take the rest of the kids around the neighbourhood, with a little bit of preparation the whole family can enjoy the day.
1. Work around naps
Try to work any Halloween fun around their routine and make sure they get enough naps to keep them happy. When you are going trick-or-treating schedule it in around their routine rather than vice versa. Nobody will be happy if the youngest member of the family is a little grumpy because they missed out on a snooze.
2. Make sure they are fed before you go trick-or-treating
Make sure baby is well fed before you go out trick-or-treating with older children. The last thing you want to do is spoil your other kids' fun because you need to go home and feed the baby, who is desperately crying for food.
3. Wrap them up well
It can be particularly cold out, especially if your baby is just sitting in a buggy, so wrap them up well. A hat, coat, gloves and blanket will ensure they aren't so cold that they become uncomfortable. If it is a little warmer out than you thought take a layer off – you don't want them becoming fussy because they are too hot.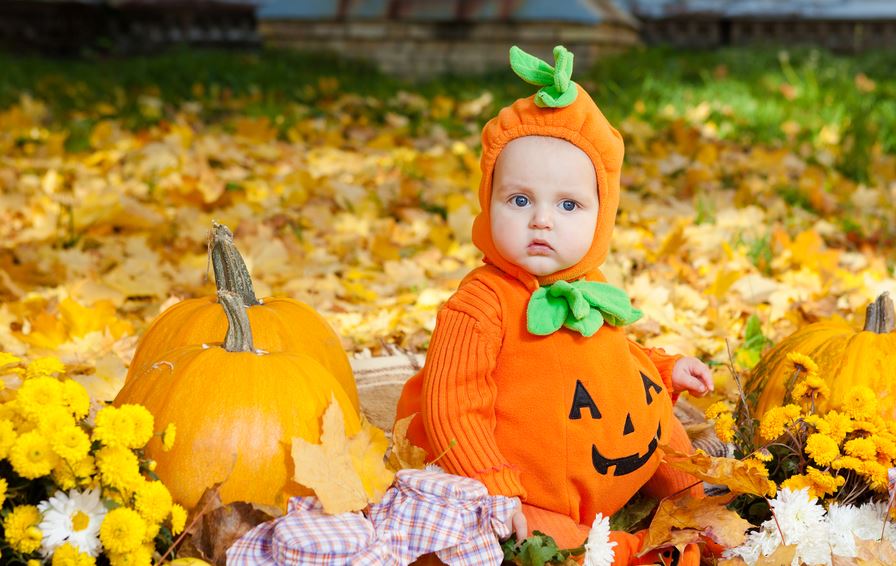 4. Avoid people looking at them through a mask
While it might look harmless to you, a mask or face paint can be particularly scary to your baby. Avoid anyone peering in at them if they are wearing anything too scary. If your infant is starting to become extremely worried, take them out of the buggy and pop them in a carrier. Being held close to you will help them feel safe. If it gets too much ask another adult to take your older child around the houses and take your baby home.
5. Take pictures before you leave the house
Don't wait until after you have gone to each house to take cute photos of your baby - they will be tired, frustrated and very cranky. Make sure you take your snaps before you leave when everyone has happy, smiley faces!
6. Don't spend too much time on their costume
You can dress your little one up in a cute costume but try to keep it simple and comfortable. You don't want your child to feel bulky or trapped as they won't be able to settle or enjoy the trip. Keep it to a pumpkin hat or Halloween gloves - they'll be warm and festive!