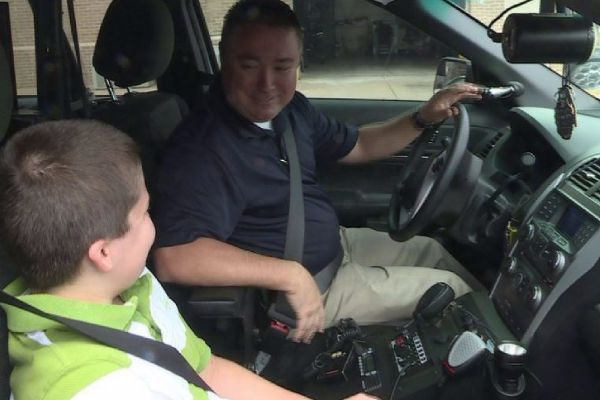 A young boy who suffered severe physical abuse at the hands of his biological parents has been adopted by the policeman who saved him.
Oklahoma police officer Jody Thompson was not on duty on the fateful night he met his son but responded to a call about a case of child abuse he heard over the dispatch.
When he got to the house, he found an eight-year-old boy named John who was covered in bruises, weighed just over four stone and had been submerged in a bin of cold water.
Officer Thompson describes it as "the worst thing I've ever seen."
The plight of the young boy tugged at the kind policeman's heartstrings and he knew he had to help John.
Police officer adopts boy he rescued from severe child abuse https://t.co/3whYduSH5i

— Sandra (@_Sandra_R_) July 2, 2017
He told CBS News: "I sat with him, and when he was admitted to the intensive care unit, I sat all night until the next day.
"When I saw him in that house shivering and his hands tied – just soaking wet and confused – I knew at that moment the only time I would be satisfied and sure that he was safe is if he was with me."
Without even telling his wife Jeannie or their other children Ryan and Charley, the cop became a certified foster parent and took young John into his own home.
Shortly after John came to live with them, Jeannie discovered she was pregnant with the couple's third biological son. Despite this, the kind couple also adopted John's biological baby sister Paizley who was born while her mother was in jail.
Two years on, Mr Thompson says John, who is now ten, has flourished in their care. "John is amazing. He's a straight-A student, on the honour roll, in the gifted and talented programme, involved in the local drama club. That kid's very resilient. He bounced back from this.
A heart-warming story
Police officer adopts abused boy 'found bound in trash can' https://t.co/0cFvHKcrr6

— Kasper Beaumont (@KasperBeaumont) July 2, 2017
"He's the toughest guy I've ever met", the proud dad added.
The family formally adopted John last August after his biological parents relinquished their parental rights. They also adopted Paizley after a lengthy legal battle. John and Paizley's biological parents are now awaiting trial.
With five kids, the Thompsons have a full house but Mr Thompson wouldn't have it any other way.
"Never in my life did I dream of having a large family, but God had different plans and so here we are. And I'm loving it all," he said proudly.
We are so glad John and his little sister found the loving home they deserve.