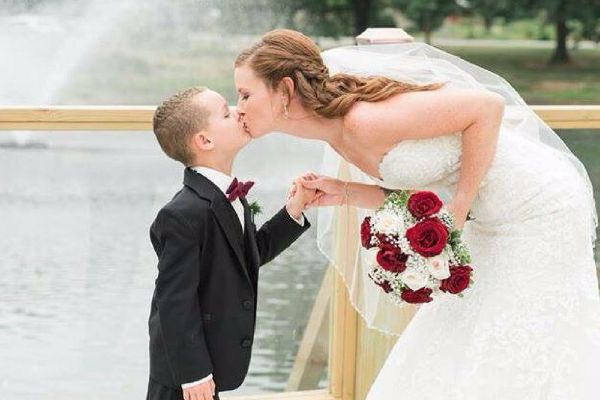 After seeing the reaction of little Gage Newville to his step-mum Emily's wedding vows, no one could doubt the love this stepmother and stepson share.
While saying her vows to husband Marine Josh Newville, Emily included Gage in the vows as he has become a massive part of her life. The four-year-old was so touched by her words, that he burst into tears and hugged her around the waist.
"I know we will butt heads, but I hope that with all my heart you will become a grown man and understand my methods, and know that I have only done what is best for you and I love you," Emily told Gage, in her emotional speech.
"The last thing that I hope you learn, is that you are an extremely special boy. You are extremely smart, handsome and kind to others. You have helped make me into the woman I am today, and I may not have given you the gift of life, but life surely gave me the gift of you."
The overwhelmed little boy sobbed into his dad's legs while Emily made her touching address.
The raw emotion and happiness of the wedding party was captured, and the video was shared to Facebook by ABC, where it went viral.
After seeing the video, Gage's mum Kali commented, complimenting Emily for being an important figure in her son's life.
Kali wrote: "As his mother, I can say that she is an amazing step-mother to him. I couldn't have picked someone better. Gage is lucky to have her, and I'm so thankful I can trust her to be there when I cannot be!" She tagged the new bride and groom in her comment so that they would see it.
Gage is certainly a lucky little boy to have such a loving step-mum in his life, as well as his parents. He seems like a total sweetheart - no wonder he and Emily have bonded so well!
Did this video bring a tear to your eye, mums? Let us know.