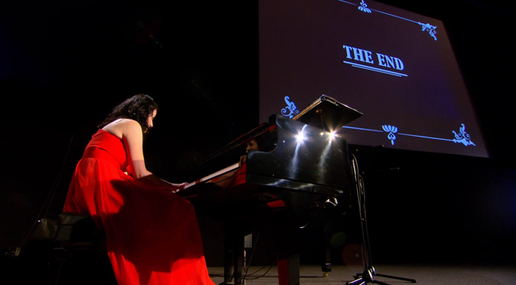 If you're looking for a fun activity to bring the kids to this summer, then look no further than the Ark in Temple Bar. This year between the 2nd of May and the 29
th
of June, The Ark is giving kids a chance to make their own music inspired by film.
There will be a range of weekend workshops, school workshops and fun family concerts to choose from, with tickets ranging from just €5-12 euro.
Kids aged 2 and upwards are welcome and previous musical ability is not necessary. From making music for silent cartoons and comedies to finding musical potential in everyday objects, these events will be led by outstanding musicians and no musical experience is required to take part. Some of the highlights include:
For kids age 2-4, there will be a series of Small sounds workshops available specifically designed to help young children appreciate music. The workshops will be led by experienced musicians and will feature gentle and interactive music as well as lights, pictures and colour.
For children aged 5-11, there will be 'Lights, Camera, Action' workshops where children will get the unique opportunity of creating their own music inspired by cartoons and silent films. Each workshop will finish with the children performing their newly composed music to a film. Children who play instruments can also bring them along.
For children aged 5-12, there will also be a 'Surprising Sounds in Technicolor' where composer Karen Power will create music and sounds with the help of everyday objects. Children will be encouraged to learn about the musical potential in all sorts of objects found lying around the house. Kids will then be encouraged to create their own music.
There are also many different workshops available for school classes which will give children a wonderful opportunity to learn about sounds, instruments and composing music.
There are lots more activities, workshops and concerts for all the family to watch out for. For full details and booking visit
www.ark.ie/events
or call 01 670 7788.
The events run from May 2
nd
to June 29
th
and tickets range in price from €5-12 euro.