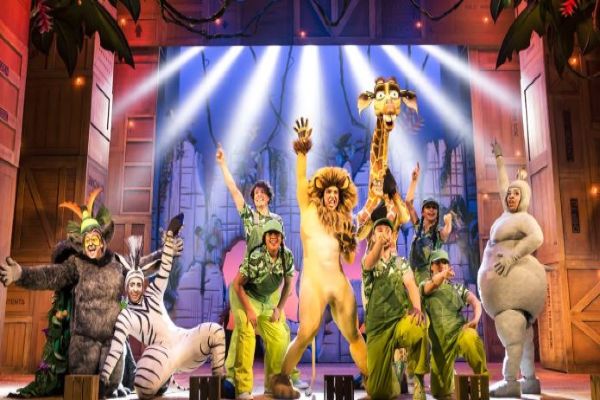 What kid doesn't love the movie Madagascar?
That's why the news that Madagascar The Musical is coming to Dublin means that it is the ideal night out for all of the family.
The musical adventure, starring X Factor winner Matt Terry, will be playing at the Gaiety Theatre in 2019 for one week only.
Tickets, from €26, go on sale this Friday, October 5th, and the curtain will go up on Tuesday 26th March to Sunday 31st March, 2019.
IT'S SHOWTIME!
Here it is folks - the brand new trailer for #Madagascar has landed! The animals are officially out of the zoo and coming to a stage near you - book to see them here: https://t.co/hqVPitAphJ #MADukTour pic.twitter.com/Reoznj3f9T

— Madagascar The Musical (@madUKtour) August 17, 2018
Matt Terry will take on the role of Alex The Lion as part of this UK and Ireland tour and he is so excited for us to see the stage adaption.
He said, ''I am so excited to be making my acting debut in the brand-new production, Madagascar The Musical. It's a childhood memory for all of us! I can't wait to be playing the lead role of Alex and bringing him to life. Expect incredible costume, set and cast. And the music is immense! It will be an awesome night for everyone to enjoy. See you all there.''
He will be joining the rest of the cast including Antoine Murray-Straughan, Timmika Ramsay, Jamie Lee-Morgan, Shane McDaid, Laura Johnson, Jessica Niles, Victoria Boden, Matthew Pennington and Darren John.
The show which is based on the smash DreamWorks animated motion picture, follows all of your favourite crack-a-lackin' friends as they escape from their home in New York's Central Park Zoo and find themselves on an unexpected journey to the world of King Julien's Madagascar.
Want to congratulate @MattTerry93 and all the other cast members of @madUKtour it was amazing and you should all be so proud if you haven't seen it go worth it my kids had a fab time

— Kelle (@xxkells1978xx) September 29, 2018
Alex the lion is the king of the urban jungle, the main attraction at New York's Central Park Zoo.
He and his best friends - Marty the zebra, Melman the giraffe and Gloria the hippo – have spent their whole lives in blissful captivity before an admiring public and with regular meals until Marty makes his escape - with the help of some prodigious penguins.
Directed by award winning Kirk Jameson with choreography from Fabian Aloise, this wacky adventure is something that everyone in the family will enjoy.
Join Alex the Lion, Marty the Zebra, Melman the Giraffe, Gloria the hip hip Hippo as they bound onto stage - you'll have no choice but to "Move It, Move It!"