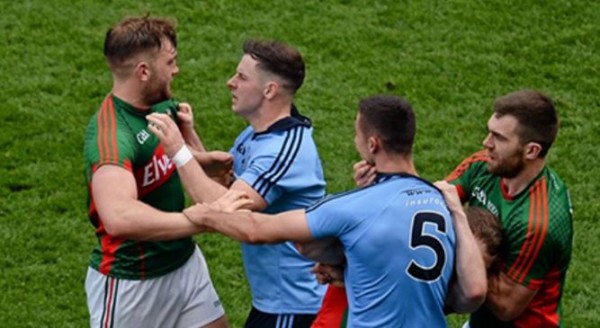 With the hurling final wrapped up again for another year, sporting attentions have now turned to the All Ireland football final in two weeks' time.
Taking place on Sunday, September 18 between Dublin and Mayo, understandably demand for tickets for the game far exceeds supply.
But while most disappointed punters have resigned themselves to watching the match in their local, some desperate fans are seemingly willing to shell out THOUSANDS of euro to secure a coveted seat in Croke Park.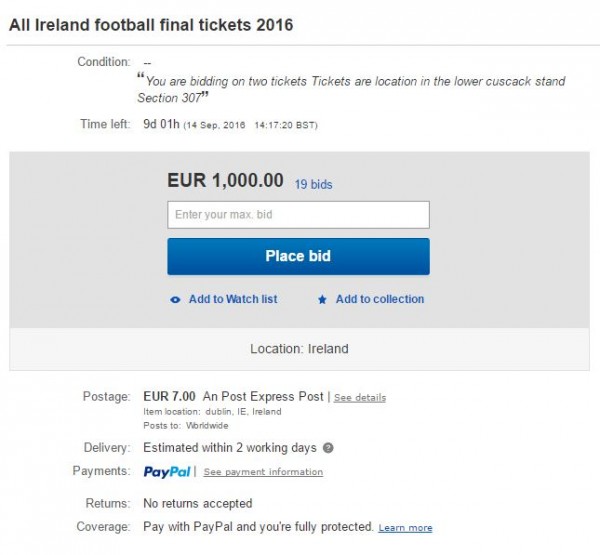 Indeed, eBay currently has a pair of recently posted tickets for sale at €1,000 - with further bids being placed hourly.
Facebook page All Dublin GAA Fans has also shared screen-grabs of further outrageous sales which it says are also currently taking place on eBay.
One asking-price for two tickets stands at an eye-watering €3,050 while another snaps shows an astonishing figure of €12,000 - although it is not clear how many seats this secures.
"Wow!! Tickets are being sold on eBay for between €3,050 and €12,100 for Dublin's All Ireland football final against Mayo in two weeks," the fan-page wrote this morning.
"What do you think of this? Would you pay mad money like that for two tickets for the game? And should people be allowed to sell them for such crazy prices?"
The response to the post has been particularly strong - with many claiming that no 'real' fan would dream of offering up such obscene sums.
One poster wrote: "To be honest I think people who pay that much for a ticket don't deserve to be there. More money than sense. They probably think Croke Park is Dublin's home ground."
They added: "Sure I'll work my arse off so someone can sit at home and make a living off selling tickets. Obviously I'd pay over the odds for a ticket but come on! There's a limit.
"I'm a diehard Dubs fan and haven't been to a final and obviously I'd love to go but if someone said to me I have 2 hill tickets for the final, €1,000 each I'd tell them to you know what.
"Boils my blood seeing tickets go at this price and there's genuine fans out there who can't get a ticket. To me, if you pay that much for a ticket you're not a real fan in my eyes.
"But, if and its a really big if, if this buyer is a big Dublin fan, why support these scum. Don't care if you're a millionaire you don't give those people that kind of money for 2 Upper Davin tickets. If you're a die hard fan you don't pay for a touts holiday. Bloody joke."
SHARE if you think these All Ireland tickets are outrageously priced