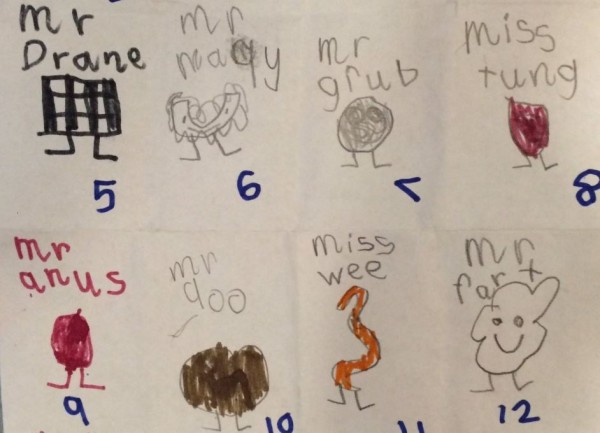 The Mr. Men and Little Miss books are an absolute classic; from Mr. Tiggle to Little Miss Giggles they are endless source of entertainment and morals.
So this tweet, about Mr Anus & Miss Boobs, has been vastly more successful than any of my usual literary tweets. You should all be ashamed.

— Anna Mazzola (@Anna_Mazz) October 18, 2016
However, for one little boy in the UK the original names created by Roger Hargreaves were getting a little dated, so he decided to come up with his own.
And being a boy, he, of course, came up with names that would make even grown men blush - and his mum, Anna Mazzola, couldn't help but share it with her Twitter fans.
My son has come up with a new series of Mr. Men and I'm not sure whether to be appalled or proud. pic.twitter.com/R72cnqUtce

— Anna Mazzola (@Anna_Mazz) October 17, 2016
Names included Mr. Fart, Miss Wee, Miss Boobs, Mr. Grub, Mr. Anus and Miss Tung (which we're assuming is 'tongue') and the little boy even drew some pretty accurate drawings to go with the new names.
@Anna_Mazz No. I'm impressed with his understanding of anatomy. I like miss tung.

— Patrick (@n1artisan) October 17, 2016
@Anna_Mazz Miss Tung. Genius. Although amongst all the sniggering hilarity I'm finding Mr Drane a bit sinister to be honest.... x

— Sarah B (@scrufflove) October 17, 2016
We're not sure how this would go down at bedtime – although it definitely speaks a language kids can understand!
SHARE if this made you giggle.