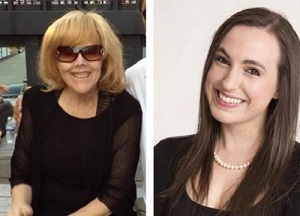 We say it all the time about our little ones, but here's some recognition for the hilarious mums out there.
A Brooklyn mum has become an internet sensation after her daughter set up a social media account dedicated to the hilarious messages she sends her.
Kate Siegel, who is an associate producer at publishing giant Condé Nast, has been sharing her mum's blunt and critical messages, and the world agrees that she is comedy gold.
The account, titled 'Crazy Jewish Mom', has a following of 295,000 since being set up in November, and has been entertaining the masses through hilarious screenshots and memes of Kate's mother's messages to her.
An example of Mrs Siegel in action is the following message, in which she writes: "Kate, really upset that u [sic] didn't go to the gym today. Unless you are carrying my Grandchild, go to the gym and stop eating garbage."
And in another winning message, she writes: "At gym kickboxing. Dad and 29-ish son next to me. Both wearing Princeton tee shirts. Dad is very old. Flirts with me (of course). Son is single. Please can I give him your card? He is in GREAT SHAPE. Adorable, single, lives in Hoboken."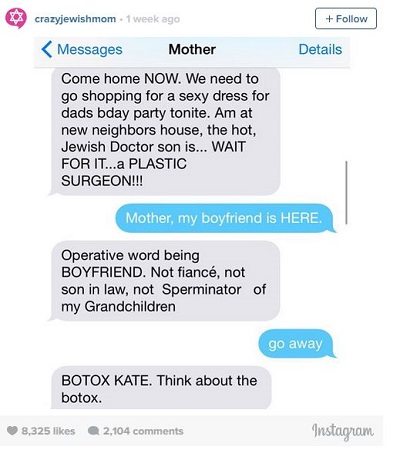 Hmm, Crazy Jewish Mom reminds us of our own mothers – and ourselves, at times!
From admitting to impersonating her daughter on a dating site to jokingly referring to Kate as "spawn", some might feel like Mrs Siegel is taking things a little too far, but Kate insists that the messages are just harmless fun.
Appearing on Today, the 26-year-old said: "I find the neuroses amusing, and I know it all comes from a place of love. I think it's hilarious, and it does not bother me at all. Even the most outrageous stuff comes from a place of love and with humour."