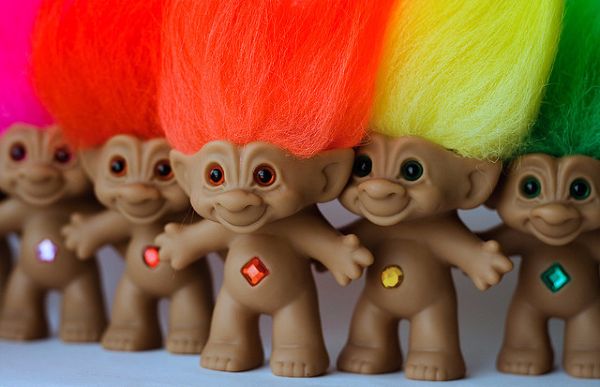 We've all heard of kids eating strange things like coins and keys, but this really was a first for us.
Alice River's toddler Eloise Huggett, aged two, began choking last week while playing with her sister's toy, when her parents Justin and Melanie came running in.
"We didn't realise she had the troll, and then the next minute she started choking," the concerned mother explained.
"The most horrible thoughts went through my mind, because when it comes to your kids, you just panic. But my husband was just so calm and leapt into action to administer first aid, to try and get the troll dislodged out of her throat," she explained to her local newspaper, The Townsville Bulletin.
Little Eloise was rushed to hospital, where an X-ray revealed that she had, in fact, swallowed the troll doll in full.
The doll, which was roughly six cm long and two cm wide, safely made its way down to the toddler's stomach, meaning that Eloise would not need surgery.
The parents of the tot were advised to simply let nature take its course: "They said it might be uncomfortable for her as it goes through her intestines, but she was fine and it did come out naturally."
In a strange coincidence, when the Trolls film was released in 2016, it was little Eloise's favourite thing to watch - making the troll-eating scenario particularly ironic.
Melanie shared some advice for other parents about what to do in a situation where a child is choking: "My advice to parents would be: just be aware that these kind of accidents do happen - and don't be too hard on yourself if something does happen; just know your first aid."
We're so glad that little Eloise is OK.