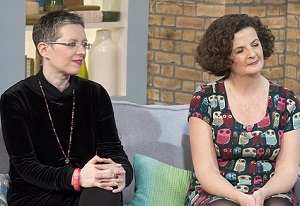 Katie Hopkins has incurred the wrath of the public with her
controversial opinions
on many occasions, and now another mum has sparked debate after saying that her children 'bore her'.
Catherine Cooper was appearing on ITV's This Morning to discuss motherhood when she admitted that she finds playing with her children to be a boring exercise.
Chatting to hosts Eamonn Holmes and Ruth Langsford, Catherine said: "Of course it's gorgeous to play peek-a-boo and see the surprise in your baby's face and it melts your heart…but 300 times later, when they're still into it, you're kind of like, 'Well, we've done this now'."
"When my children were babies I did often find it quite boring and I did feel really guilty because it was talked about less. I imagined everyone else was having an amazing time doing tumble tots and everything else," she added.
While host Ruth agreed that she had experienced similar feelings herself, a number of viewers took to social media to criticise Catherine over her admission.
#BoredByYourKids
I could never be bored by my child, some people can't have children so I enjoy & embrace every minute of it.
#Lucky
❤
— Natasha ♡ (@NatJablonskas)
January 30, 2015
— Lelle Martin (@LesleyMartin1)
January 30, 2015
One Twitter user wrote: "How can you be bored of your children? Some people can't have a child and would give anything to play."
Meanwhile, another user sent her support to Catherine, tweeting: "Of course you get bored, it's bound to happen. Just because you get bored doesn't mean you don't do it or that the child knows."
What are your thoughts on the subject?