Anyone who has travelled on their own for the first time with a tiny tot will know the fear, anxiety and stress that goes with it.
You will no doubt, then, be able to identify with Rebekka Garvison, who was flying with baby Rylee for the first time, to reunite with her army husband Nick.
After boarding a packed plane, Rebekka felt her stress levels rise as little Rylee began to cry. With the couple beside her looking less than amused, Rebekka asked if she could be relocated to another seat.
In what proved to be a stroke of luck, Rebekka was seat beside Nyfesha Miller, a compassionate mother herself.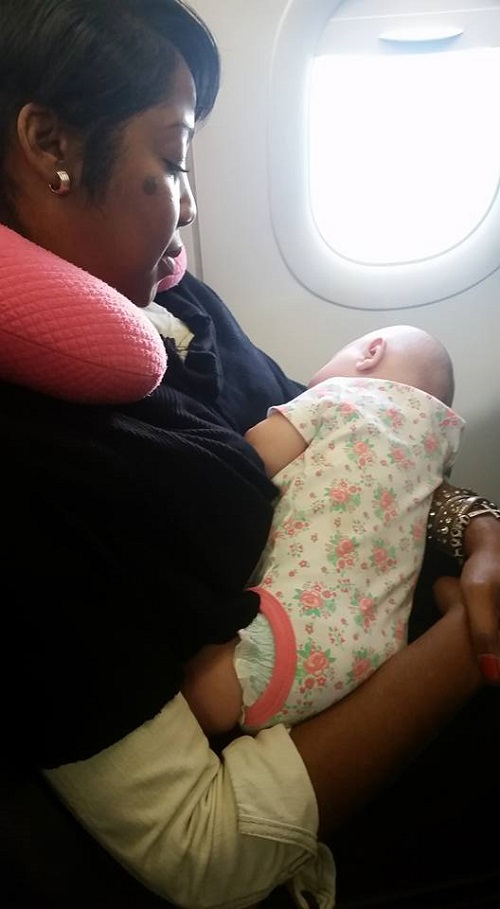 While Nyfesha has since admitted that she was less than thrilled by little Rylee's cries, she was touched by Rebekka's situation. Without hesitating, Nyfesha took the child and cradled her until she fell asleep – and it worked a treat.
"I'm not sure if she could tell how stressed and upset I looked or what, but she turned our day completely around. Rylee wouldn't stop crying no matter what I would try and do…so she had asked if I didn't mind if she tried, and of course I let her," explained Rebekka, in a Facebook post.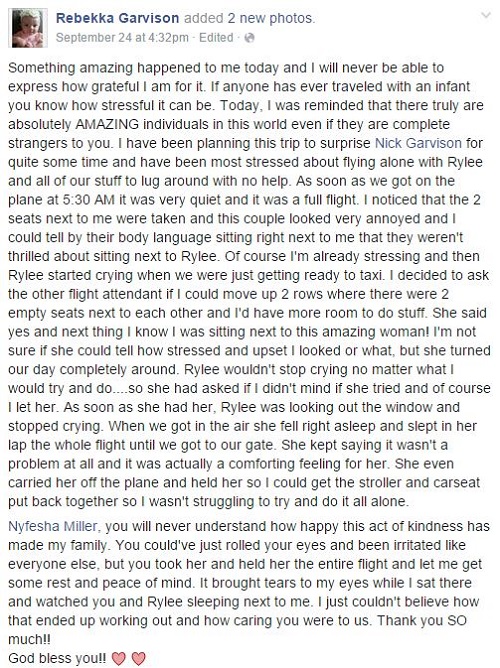 She added: "When we got in the air she fell right asleep and slept in her lap the whole flight until we got to our gate. She even carried her off the plane and held her so I could get the stroller and car seat put back together so I wasn't struggling and try to do it all alone."
She praised Nyfesha for her 'act of kindness', which has warmed hearts around the world.