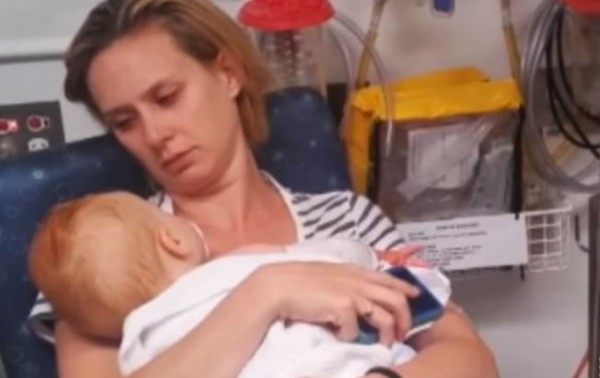 A mum in Australia was wrongly told her eight-month-old daughter had "behavioural issues" when, in fact, a cancerous tumour was crushing her spine.
Naomi Holly brought her daughter Nora to St John of God Midland Public Hospital after discovering Nora was unable to crawl or walk as normal.
At first the mum was told her little girl had "behavioural issues", but believing the diagnosis to be "ludicrous" she requested a second opinion.
The second doctor organised blood tests and X-rays, and after finding something suspicious they put one of her legs in a full cast.
Nora was discharged and her mum and dad were told to give her Nurofen. However, the little girl deteriorated over the weekend and lost control of her upper body.
Naomi then took her to Princess Margaret Hospital where they removed the cast, put her under a general anaesthetic and conducted MRI and CAT scans, lumbar puncture and a biopsy.
It was here that they discovered a neuroblastoma in her chest cavity that was crushing 85% of her spine.
Surgery was deemed too risky and the youngster started chemotherapy on the Wednesday.
"Another 24 hours and she would have lost all movement to her legs, there wouldn't have been any recovery to them," said Naomi.
"As a mother of three I knew enough about my children to stand up a bit to what they were saying. But what happens if a mum comes in and completely accepts what the doctor says?"
Thankfully, little Nora has regained some movement in her legs.
Releasing a statement, St John of God executive director of Perth northern hospitals Dr Lachlan Henderson said: "The hospital undertakes a review of its processes for all unexpected clinical outcomes, and will do so on this occasion. Our thoughts are with the baby girl and her family."
SHARE to send good wishes to Nora and her family.