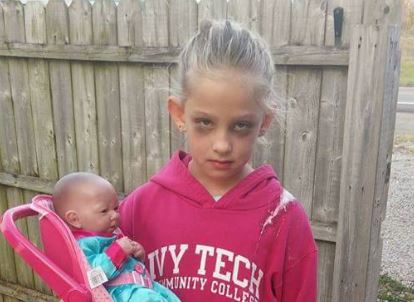 As doorbells ring around the country tonight, we expect to open our doors to children imitating their favourite superheroes, movie characters and even animals.
But this little girl had something different in mind and boy, was she accurate.
Lainie decided she wanted to dress up as a mum for Halloween. But not the stereotypical mum we see on TV, no Lainie wanted to dress up as a real mum, a mum that looks very familiar indeed.
Sharing a picture of her amazing costume on Facebook, a family friend captioned the picture:
"My friend's daughter dressed up as a mum for Halloween. Notice the spit up and dark circles under her eyes. Im dead!
"This is the best costume I've ever seen!"
The post has received over 170K likes so far and we can see why.
With a doll sitting on her hip and one wrapped on her ankle, Lainie perfectly captures the sheer exhaustion that we mums know too well.
Mums everywhere are now praising the costumes saying:

"That is me! Minus tidy brushed ponytail. Who's got time for that?"
"It's a MOMBIE," read another comment.
SHARE if you think she nailed this exhausted mum costume.