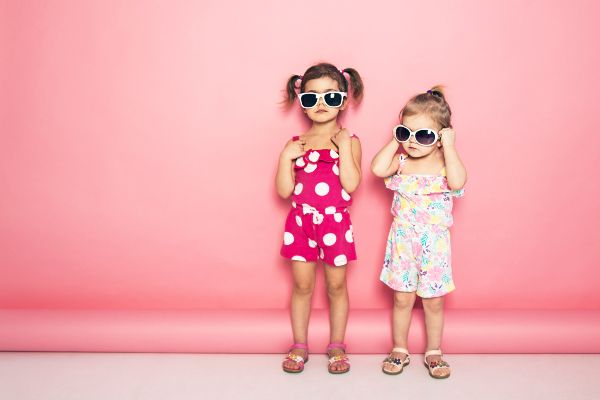 We're marking National Sibling Day with a round-up of our favourite celebrity pairings.
George and Charlotte Cambridge
These adorable royal sibs are the cutest of our celeb collection! Little George started school last September and Charlotte turns 3 this May, they have quickly become kiddie fashion icons. The Prince and Princess seem like any regular siblings, with photos emerging of them messing at weddings and testing their royal momma's patience over the last few years. With another Royal wedding coming up and the arrival of baby number 3 for Kate and William, we hope to be hearing more from these happy little highnesses over the next few months!
Serena and Venus Williams
These superstar sisters inspire young women in sport all over the world. For both fitness and fashion, they serve as a sibling goals for sure! Last year, Serena provided major mummy-inspo when she won the women's Title at the Australian Open while pregnant with her little girl, Alexis Olympia - we just know Venus is ultimate auntie goals too!
The Hemsworth Brothers: Luke, Chris and Liam
The gorgeous and hilarious Aussie bros Chris, Liam have dazzled us on the big screen over the last few years in movies like Thor, The Last Song and Ghost Busters. Chris, Liam and Luke (the eldest Hemsworth bro) started off as Australia soap stars in Neighbours and Home and Away- two shows with a large Irish following. These celeb siblings have taken Hollywood by storm – and were on board!
Elle and Dakota Fanning
Cool doesn't cover these celeb sistas. Dakota and Elle have been in the public eye for most of their lives and are appearing together more and more frequently these days. Both are massive movie stars and have appeared in some major flicks over the years like Uptown Girls, The Twilight Saga movies, Oceans Eight (Dakota), We Bought a Zoo, Maleficent and The Beguiled (Elle). They appeared together in the Vanity Fair's 2017 Hollywood issue, as confident strong and stylish-sibling goals for sure!
James and John (Coach) Kavanagh
IRISH SIBLINGS are the best craic and must be represented! Fast becoming Ireland's coolest celeb sibs are the Kavanagh bros. James Kavanagh, hilarious snap-chat sensation, landed a spot on Ireland's Got Talent this year, presenting alongside Lucy Kennedy. John 'Coach' Kavanagh is an Irish MMA coach with over 400,000 followers on Instagram. His students include some big names like Conor McGregor. The brothers appeared together on the Late Late Show last year, giving us a snippet into their gas relationship-which mainly consists of embarrassing their mam and rendering each other 'scarlet'!