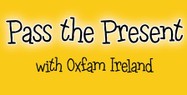 Birthday parties are great fun for kids – who wouldn't love them? But often, there are so many gifts given, some of them end up at the bottom of the toy box untouched. This year, would you consider asking
just one of the guests who come to the party
to donate their gift to
Oxfam Ireland's Pass the Present scheme?
This is a wonderful scheme that helps raise much needed funds for a really worthwhile cause. You can ask as many guests as you like to participate and because everyone else will buy a present as normal, your child still gets lots of presents on their special day.
How does it work?
When preparing for your child's birthday,
you can ask your selected guest(s) to donate
to
Oxfam Ireland
instead of buying a gift. Oxfam Ireland will provide you with the invitation letter to give to your chosen guest(s) and will also send the birthday girl or boy a lovely Puzzle Pack which includes a certificate, puzzle sheets and more, as a special thank you.
We think it's a brilliant initiative and in support of Oxfam Ireland, we are asking you to register to receive a reminder from them about the scheme 3 weeks before the birthday to help you get organised.
As a thank you for registering, we are giving you the chance to win this amazing cookbook hamper worth €150, including favourites from Rachel Allen, Lorraine Pascale and the gorgeous SABA Cookbook.


In addition to that, as a special treat for the birthday boy or girl, our friends at
Artzone
(Ireland's Leading Children's Art School) are giving everyone who registers a FREE art class. They currently hold classes in Dublin, Kildare, Meath and Wicklow and the free art class is available to any age – toddler, juniors, tweens, teens or adult. It can be used at any time up to December 2012 (advance booking necessary).
To be in with a chance of winning the fabulous book hamper and to avail of the FREE art class from
Artzone
– just register using the form below, including your child's birthday details.
The winner of this fantastic cookbook hamper is Gillian Hickey from Dublin, congratulations Gillian, we have sent you an email. Thank you to everyone who entered and who signed up for the very worthwhile Pass the Present with Oxfam Ireland initiative x