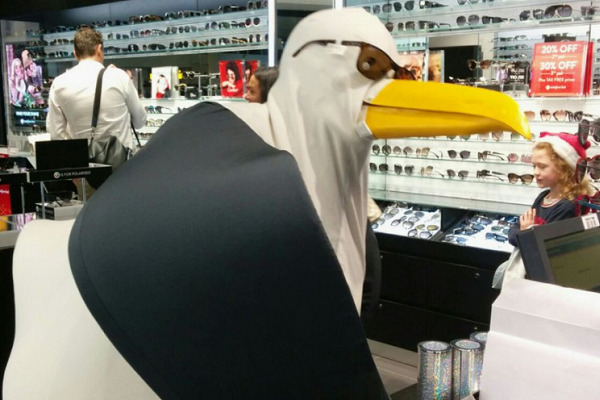 Picture via Twitter
Gatwick Airport welcomed holiday travellers with plenty of festive cheer.
The Christmas passengers appreciated the entertainment. Well, some of it.
Gatwick, of course, had a few traditional Christmas accoutrements, like reindeer and Christmas trees.
It's all going on for the Christmas fun day here at Gatwick, We're here to help as usual, but head over to our Instagram Stories to see what we're up to! pic.twitter.com/dBWx3N0kcp

— Gatwick Airport LGW (@Gatwick_Airport) 22 December 2017
And then there were the seagulls.
We are not kidding. People in seagull costumes were wandering around the airport, freaking out anyone who's ever had a bird snatch a sandwich out of their hand at the beach.
Gatwick airport has put on some VERY FESTIVE and NOT AT ALL HORRIFYING Christmas entertainment pic.twitter.com/Kq2Lm0Ph0N

— Sophie Gadd (@sophie_gadd) 22 December 2017
They've been busted trying on sun glasses too pic.twitter.com/8Lf8WndK3L

— Kt (@Sheparo) 22 December 2017
Maybe Gatwick is trying to start a new trend and make seagulls the new emblem of Christmas. This time next year we'll all be ditching our angels and stars for a gull at the top of the tree.
The birds were not the only unusual characters traipsing around the terminals.
There were monkey salespeople, a polar bear (slightly more conventional), and a French maid...on stilts.
Monkey salesmen have emerged to deal with the situation pic.twitter.com/fVyhEfvOGN

— Maria O'Brien (@malteasermia) 22 December 2017
Update - they were accompanied by a bear. We have not yet determined if these characters are working together or just all escaped from the same circus pic.twitter.com/6gqbDi0DE9

— Maria O'Brien (@malteasermia) 22 December 2017
This is fine. Everything is fine. pic.twitter.com/019XxrFQ62

— Maria O'Brien (@malteasermia) 22 December 2017
There are no words.
Gatwick's tweeted in response to the confounded travellers, saying, "Looks like it ruffled a few feathers Maria! Merry Christmas."
We hope that all of the baffled passengers in Gatwick get to their destinations safely!