Taking care of our bodies when trying for a baby is so important. There are lots of things we can do to help the process including getting enough sleep, maintaining a healthy lifestyle and diet, exercising and taking a nutritional supplement like
Proceive®
. Ideally, you should start this regime three months before you start trying to conceive.
Did you know that just over a third of couples will conceive in the first month of trying, while for others it can be a much longer road? There are many factors that influence this, including age, general health and reproductive health.
Around 1 in 6 couples can experience issues with fertility and the growing demands of a modern lifestyle are having a significant impact on our nutritional health. Stress, anxiety, lack of sleep, dieting and poor nutrition all impact the body's ability to absorb the nutrition needed to optimise reproductive health.
We spoke to the team at Proceive® who have put together some tips to help prepare your body for conception.
Getting enough sleep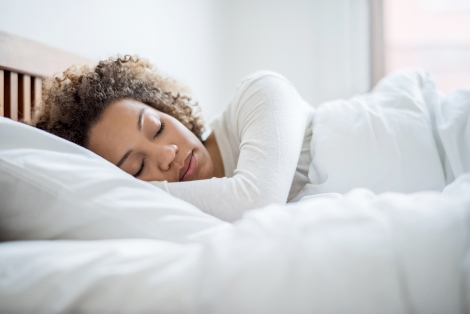 It goes without saying that getting enough sleep is essential when you're trying for a baby. It is recommended that adults get between 7-9 hours of restful sleep. Try not to use any devices an hour before hand and have no tv or phones in the bedroom. Sleep affects your physical health, emotional health and mood, and hormone production.
Enjoying a healthier lifestyle
Certain nutrients play an important role in the reproductive system. Improving your nutrition and lifestyle for a little as three months before trying for a baby can make a difference to both genders. For women they support the development of the egg, womb and the hormonal system. While for men they support the development of good quality sperm cells. Eating a well-balanced diet full of fresh fruit, vegetables, wholegrains, pulses, lean meats and fish will give your body the nutrition it needs.
It is also recommended to stop or reduce your alcohol intake. Stop smoking, it is a well-known fact that smoking can have a significant effect on the fertility of both men and women.
Take a conception supplement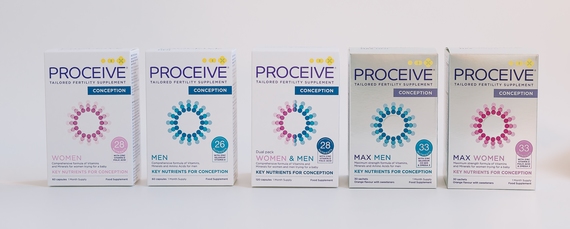 Reproduction is an incredibly intensive process, and in today's busy world, it can be difficult to get all the nutrients you need from your diet alone. This is where fertility supplements can be a great way to boost the nutritional needs of your reproductive system, and give the extra support needed for good pre-conception health, along with a healthy diet, enough sleep and regular exercise.
Proceive® is a specially formulated range of fertility & preconception nutritional supplements for men and women and has been developed by fertility experts.
Proceive

®

Women
contains a combination of 28 vitamins, minerals and amino acids tailored for women who are preparing for conception. The formula includes Vitamin D, Zinc and the recommended 400μg Folic Acid in the natural L-Methylfolate form for improved absorption.
Proceive
®
Men
contains a combination of 26 Vitamins, Amino Acids and minerals specifically tailored for men to support the nutritional needs of the male reproductive system.
Proceive® have tailored their products based on the different needs of their customers. For couples over the age of 35 (For Women) and 40 (For Men), or those who have been trying to conceive for a year or more,
Proceive
®
Max
is recommended. This product contains more nutrients at much higher level than the capsules. The clinical research has shown that those that have been trying for a little while benefit from the higher strength formula and the extra ingredients.
Keeping a healthy weight
Maintaining a healthy body weight is so important when trying to conceive. Do talk to your doctor about what is considered healthy for you and work from there.
Getting enough exercise
Exercise is one of the most important positive behaviours that we can engage in to maintain a healthy lifestyle. For women, exercise improves blood flow to the uterus and ovaries, and generally improves mood. Just be mindful that over exercising can affect your fertility. We recommend adjusting your fitness routine, such as reducing the number of days per week you exercise, as well as the hours per day, avoiding overexertion and switching to lower-intensity activities that don't induce inflammation in the body, such as walking, Tai Chi, Pilates and yoga. Create a routine that works for you.