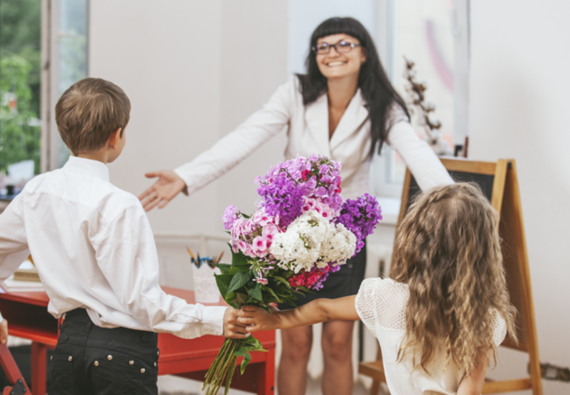 At the end of every school year and especially at Christmas, parents are frantically flitting around the shops trying to find an appropriate present for their kids' teachers. Trying to buy a gift for someone who you don't know very well can be difficult and in a desperate search to find something (or anything), teachers end up with an array of candles, soap sets, personalised mugs and boxes of chocolates.
So here are a few suggestions of personal, and inexpensive, gifts that a teacher will love and remember. Keep this list and use it at the end of every school year (and Christmas of course) and you will soon be known as the mum who gives the best presents in the school! These are simple, thoughtful gifts that will save you hours searching shops and won't break the bank.
Home Cooking: This is one that any teacher will really appreciate. Homemade treats are a lovely way of saying thank you and are generally inexpensive. Some sort of cake is probably the safest option but buns, brownies, pies, etc. are also good options. Cake Pops are also a very popular baking treat and you can create cute gifts with them.
Teacher Supply Box: Teachers can never get enough of supplies so why not get a pretty box and fill it with all the teaching essentials such as pens, colours, pencils, markers, glue, sellotape, scissors, notepads, tissues, coloured paper, anti-bacterial hand gel, rubbers, rulers etc. It's a thoughtful gift that they will certainly appreciate.
Plants: There is nothing that can brighten up a class room quite like a few pretty plants. Make sure that they are low-maintenance so that they don't take too much trouble to take care of. They create a lovely atmosphere in the classroom and are a unique alternative to the usual flowers.
Voucher (bought in a group): Although it might seem a little impersonal, a gift voucher is a present that will always be made use of. Decide on a low amount and get together with a few of the other parents and get a voucher for a shopping centre or department store? So instead of a teacher receiving 25 candles, he or she can buy something she really loves.
Jar of Treats: A jar filled with lots of different sweets (everything from M&Ms to apple drops to chocolate mice) is a lovely alternative to a box of chocolates.