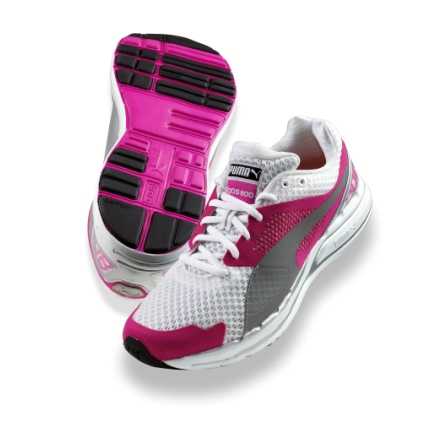 If you're a mum who likes to stay fit or who is planning on getting in shape before your holidays (bikini season isn't too far away now!) then the most important item in your wardrobe is a good pair of runners. PUMA has introduced its Spring/Summer collection of Faas running shoes, including the Faas 800 Lightweight Stability Trainer, perfect for those who hope to do a bit of running over the summer months. PUMA is at the forefront when it comes to designing innovative products, ensuring you are comfortable and looking good while doing your exercise.
PUMA Faas 800 is a stability shoe with a one piece midsole that is long on stability and made with a specialised version of BioRide Technology. This will allow you to enjoy a responsive, natural and breathable run. This is an excellent shoe whether you're a serious runner or whether this is your first attempt. The forefoot flex grooves allow for a smoother heel-to-toe transition and allows for an easier toe-off when running while also encouraging momentum.
The PUMA Faas range combines the science and technology of speed with bright Jamaican colours, part of PUMA's 'Inspired by Jamaica' collection. Bright colours are very on trend at the moment in sports wear so these runners will look great whether you're hitting the gym or running in your local park. The shoe's design increases flexibility and keeps weight down as the Faas range is stripped down to basics to enhance natural running – the lighter the shoe, the faster it goes.
The PUMA Faas range is available to buy now in your local Elverys Sports store and at leading running specialists. For further information on PUMA running and the Fass range check out
www.puma.com/running