Recipes by First 1000 Days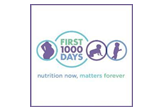 The First 1000 Days refers to the time from pregnancy through to a child's 2nd birthday. It has been highlighted as a really important time for the development of your baby, and an opportunity too important to miss in terms of 'programming' a child's future health, growth and development. The aim of the First 1000 days is to provide mums-to-be and parents with practical advice, tips and recipes to help them to get the right nutrition during this critical time.
The following are some recipes from the First 1000 days recipe book; these have been developed by dieticians from around Ireland, and a few from chef Neven Maguire. There are some great ideas for highly nutritious meals across each of the four stages: pregnancy, breastfeeding, weaning and toddler.