Starting a weightloss journey is never easy. There are a number of factors that you need to get right without which your journey will end up being a failure. You need motivation (and a high level of it), a willingness to exercise and most importantly, a willingness to understand the food you are eating with a view to changing your habits. It's not easy to do all three at the one time – as with anything, changing habits are tough especially when trying to remain motivated and the on slought of hunger which inevitably kicks in when you step up your exercise.
For the last 4 weeks I've been on the Tony Ferguson (TF) programme and I have to say, I'm impressed. Not just with the diet but with my weightloss too. I have two children and a very busy life. What mum doesn't? I put myself forward to do this programme along with three other MummyPages mums, each of us with our own goals of why we wanted to shift a few pounds. According to my BMI I'm not overweight (24) but I know in my heart that I've gained a good stone in the last 18 months and I was eager to lose it. I wanted to feel the swing in my clothes. Any women reading this will know that feeling.
I was extremely refreshed by the TF programme not only because it works (more on this in a moment) but because it's easy to buy into and it isn't all about counting points (which I have no time for) nor is it about eating cardboard food.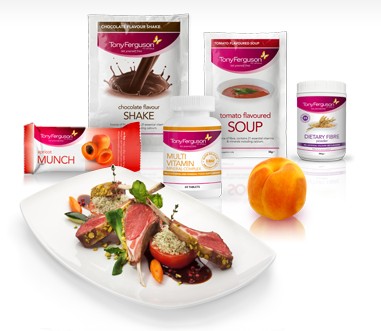 The programme is simple too – it involves replacing two meals a day with either a shake (of which there are 12 flavours), a soup (12 flavours including yummy ones like Asian soup) or a meal bar. Each of these meal replacements come in around 200 calories but they are jam packed with protein, essential minerals and vitamins which we so often miss out on during any diet. Yes I know it should be easy to eat the right food which has the essential vits and minerals but I wouldn't be on a diet if I had this down – would I? I had my favourites from each type of meal replacement. I did a shake for breakfast and added the TF fibre supplement into it which is recommended during the diet to keep things moving! I also used this time to take the TF multi-vitamin and TF Chromium Plus (this is a tablet you take to help overcome cravings – it contains vitamin C, which helps your body to absorb chromium, and cinnamon, which helps to regulate blood glucose levels). They recommend you consume two servings of low GI fruit which I found great for 'boredom snacks' - you know when you eat just because you want to do something? Or is that just me?

Then I would either have a shake or bar for lunch. Dinner is a normal dinner which is low in fat, high in protein and carbs (yes carbs) and if you feel stuck for exciting dinner options, they have created a recipe book full of appropriate recipes which aren't just about grilled fish and chicken. I found this a huge help as I needed the family to buy into my healthier dinners. They were high on taste and low on complaints. This isn't a crazy diet where you only eat green food, or where you are required to consume copious amounts of protein to lose weight. It's actually, well, normal.
But that isn't where the TF programme ends. Every diet comes to an end – it's also normal to need to relax even when you are on the programme. So they take this on the chin and instead of screaming abstenance, they suggest if you do like (need?) a glass of vino for example, to limit it to a couple of glasses during the week. The programme guide which comes with the programme educates you on making good choices when dining out e.g. Korma bad, chicken tikka better.
The programme also guides you through how you can maintain your weight loss and even continue to lose weight albeit at a slower rate when you have reached your weight goal.
I should say that the 3 other mums and I were very motivated to lose weight but that's an essential part of making change. The TF programme helps re-educate you on what you should be eating and when you reach your goal you have a clearer picture of what foods impact on weight gain.
So what are the results like? They are pretty good – the actual figures from the MummyPages team, after 4 weeks are: mum 1 lost 12lbs, mum 2 lost 10lbs, mum 3 (me) lost 9lbs and mum 4 lost 7lbs. That's pretty good going with an average weight loss of 9.5lb each.
I'm going to stay on the diet even when I reach my goal – I find the bars at lunchtime so handy when I'm busy and on the go that having one in my bag, saves me from a €6 fat filled salad, coleslaw and ham baguette.

Personally, I couldn't recommend this programme more if you are stuck for motivation to get started. It will help you stay on the straight and narrow for the start of your weightloss journey and beyond. It's realistic and even from the start, prepares you for transition once you have achieved your goal. If you are done counting points, yo-yo dieting and generally feeling like the weight isn't moving, then give this programme a go. You won't be disappointed.
Background:
MummyPages received no payment for doing this trial. The mums selected volunteered in Spring 2012 and were picked at random. The mums did receive their Tony Ferguson supplies at no cost.
The Tony Ferguson diet is available from most Boots stores. You won't find it anywhere else. For more on the diet visit: Tony Ferguson
Website
.