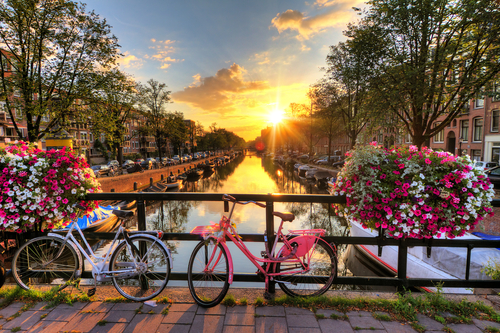 There is nothing like a city break with your other half to help recharge the batteries and spend some quality time together, without a child vying for your full attention.
If you are planning a trip this autumn, take inspiration from the following locations:
Amsterdam
Not typically considered when deciding on a romantic location, Amsterdam is not just for backpackers and young adults, and is only a short plane ride away making it an ideal location for those who are reluctant to stray too far from their kids. It is a beautiful city full of culture and history, and its numerous canals adds to its character. The city is not too large so over a weekend break you could easily fit much of it in even if you are just walking around. There are an abundance of restaurants, cafes and shopping to keep you entertained and happy.
Rome
If you are after romance, then head to Italy's capital. Attractions are within walking distance so you can spend one day soaking up the atmosphere and culture and another simply enjoying the fabulous food the city has to offer. It is steeped in history so make sure you pop by St Peter's Basilica and The Colosseum to name a few must-see spots. And don't forget to throw a coin in the Trevi Fountain, to ensure you will be back to the Italian city - maybe next time you'll treat the kids.
Vienna
Another city not too far from home is the stunning Vienna. With its mix of old, traditional with modern and chic buildings, this city is truly a treat for the eyes. While there, make sure you take a trip to The Vienna Philharmonic Orchestra and the Staatsoper - one of the world's leading opera houses, where you will be treated to an incredible array of music from the world's finest musicians. It's not just all about music though, the city is awash with fabulous eateries including traditional Viennese food and international cuisine.