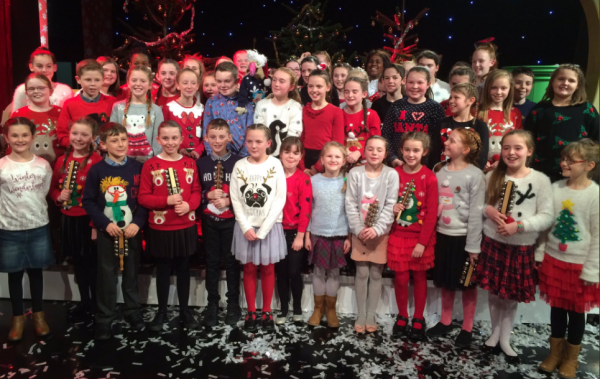 Children from a Dublin school were left in tears when their much anticipated performance on the TV3 Toy Show was cut last minute.
Friday night's show was meant to end with a performance from the children from St Cronan's Senior National School in Swords however, they were left confused and upset when their performance was not aired in full.
Waiting our turn & watching backstage!#TV3ToyShow pic.twitter.com/X5PHed8dkc

— St Cronan's SNS (@ScoilChronain) December 2, 2016
Teacher Rita Doyle and school principal Loreto Desmond were hard at work preparing the children for their big performance and said they had to console some very disappointed kids on the way home from the show on Friday night.
"We were told crackers would go off with confetti and then the music would roll," Ms Doyle told The Journal.
"The crackers went off and I was thinking 'where's the music, where is the music' – I thought I faintly heard it and we started singing."
Disappointing ending to our day but that's Live TV!!!
On the M50 now.

— Choir (@CronansChoir) December 2, 2016
Oh well....we still got to meet Dustin! Every cloud 'n' all that.... #TV3ToyShow pic.twitter.com/TawfBu3w85

— St Cronan's SNS (@ScoilChronain) December 2, 2016
It wasn't long until Ms Doyle realised the show had already finished before the choir finished their performance.
Parents and teachers were left to console the children who had been preparing for weeks.
When the cameras stopped rolling we just kept singing! Well done to our choir #TV3ToyShow pic.twitter.com/b2R4s2Ibmb

— St Cronan's SNS (@ScoilChronain) December 2, 2016
TV3 have since apologised to the school and the pupils who worked so hard on their performance.
We want to apologise to St Cronan's Senior National School Choir in Swords, who were amazing on our toy show teaser. they were cut short.

— TV3 (@TV3Ireland) December 2, 2016
Fame is fickle, kids. Stay in school. https://t.co/mZgeHAw7Ev

— St Cronan's SNS (@ScoilChronain) December 3, 2016