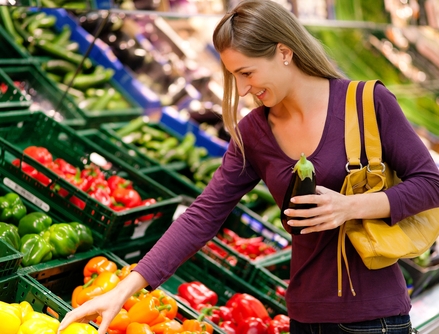 Sometimes the healthy food options seem to be the most expensive, but being healthy doesn't have to break the bank. Here are some tips from Unislim on how to transform the cheapest and simplest ingredients into tasty, affordable meals. These tips can be used for the family dinner, as well as your own meals so use these guidelines to plan your weekly shop.
Seasonal and Local
Have you ever tried strawberries in November? They don't taste the same because they have travelled from across the world and are a bit more expensive. Fruit and veg that is in season is more than likely cheaper and also taste far better.
Savvy Shopping
Coupons are a brilliant way to reduce your shopping bill. Take note of 'Buy One Get One Free' offers but be smart about it. If the offer is for healthy food like wholegrain bread or unsalted nuts then stock up. Aim to buy non-perishable items like wholegrain rice or cereal in bulk, as larger packs will probably work out cheaper.
Chop and Save
It may be more convenient for mums to buy pre-cut vegetables, sliced cheese and bags of salad, but these tend to be more expensive. By chopping and washing your own food, you'll save a few Euro in your shopping. However, pre-packed fruit and vegetables could be cheaper than buying loose ones so keep an eye out.
Waste Not Want Not
If there is food in the fridge that is about to go off, a great idea is to cook it and freeze it for another day. Learn how to store food properly and get the best value you can out of it. Don't throw away leftovers – keep them for lunch the next day.
Frozen Treasures
Wholegrain bread, pitta and rolls can all be frozen and then defrosted for lunchboxes. Frozen veg can also be just as tasty as fresh veg so keep a supply of it in your freezer. Unislim also offer a range of ready meals, perfect for nights when you cannot face cooking.
Cupboard Standbys
Tinned food is perfect for keeping in the cupboard for a last minute dinner. Kidney beans, chickpeas, lentils, butter beans and cannellini beans are all full of lean protein and fiber and can be used to make stews, casseroles and soups. Tinned tuna and salmon are also store-cupboard essentials and are great for healthy sandwiches and fish cakes.
Bring to work
Bring your lunch in to work and save yourself some cash. It's also far easier to keep track of what you're eating when you pack your own lunch, so you can avoid hidden calories. Try some delicious Unislim soups (visit
www.unislim.com
for recipes) and homemade sandwiches. Stock up the fridge at work and throw in some healthy yoghurts and fruit to avoid the afternoon slump.
Unislim has put together a 'Seven Day Savvy Slimming' recipe guide with each meal within €1 - €2 per serving. For more information visit the website
www.unislim.com
.