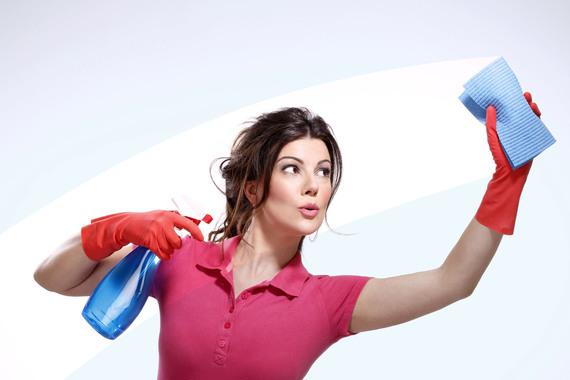 Ideally you should try to exercise for 20 to 30 minutes a day, but if this isn't possible in your busy life, try to squeeze some extra movement into your day. Your muscles don't care whether you're in the gym or at home - just add a little extra motion to your normal routine and you'll tone up - in the kitchen, in the car, at your computer, doing laundry. Here are a few of our favourites.
Add extra steps to your day
Every step you take counts, so buy a good pedometer walk at least 10,000 steps per day. Record your daily steps in a notebook. By the end of the week you will know your average daily steps. Here are a few simple tips to increase your step-count:
- Leave the car at home for tasks that are reasonable distances
- Take a walk with your kids, partner or a pal
- Walk the kids to school
- Walk the dog
- Use the stairs instead of the lift or escalator, or walk up the escalator - don't just stand there
- Park further from the shops
- Window shop (this never feels like a chore!)
- Get gardening
- Join a walking group
Squeeze your buttocks
Squeeze them when you take the lift; squeeze them while you're waiting at the supermarket checkout; squeeze them while you're sitting in traffic. No one will notice!
Work those legs
Try doing leg lifts at while you sit at your desk in work, or do squats while you brush your teeth morning and night or when you're on the phone.
Tone that tummy
If you like to watch TV in the evening, try doing some stomach crunches. Make a deal with yourself that you'll do 20 sit-ups during the ad breaks. You don't have to make time for this or use any special equipment - so no excuse!
Improve your posture
There is a connection between good posture and improved muscle tone and even weight loss. Just standing or sitting up straight forces you to properly align your body which pulls everything up and in, and not only do you look thinner, but the core muscles in your abdomen and back will strengthen. At first this will be a conscious effort, but if you practice this for a while standing up straight will become natural.
Stretch
Tension can build up simply from sitting at your desk all day at work, or from doing household chores such as ironing. Stretching encourages muscles to relax and prevents poor posture, tiredness and even injury caused by poor sitting positions. While at work, set the timer on your phone and get up at least every 45 minutes, head for the kitchen or to the water cooler and do some relaxing stretches. It will also relax the mind.
Cleaner and leaner
Doing housework can burn up to 400 calories an hour - carrying laundry up and down the stairs; hoovering; mopping floors; cleaning the windows; making the beds. These are tasks you have to do anyway, so why not tell yourself that its part of your exercise routine, set a time limit, put on your favourite music and go for it!