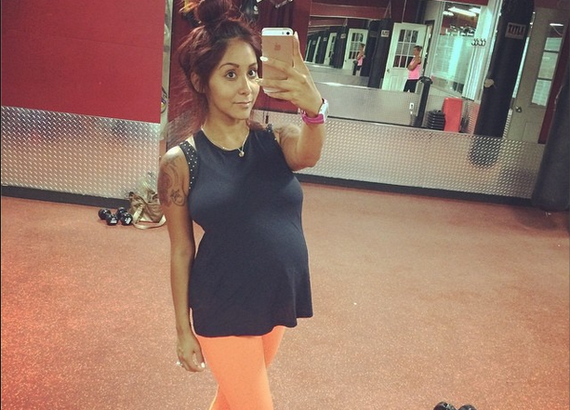 This definitely falls into the territory of dedication or madness.
While most mums are struggling just to move around at eight months pregnant, Nicole Polizzi, better known as Snooki, is pumping iron at the gym.
Snooki has been a regular at the gym throughout her second pregnancy, and even as she approaches her due date shows no signs of easing up.
The reality star shared a video of the weight lifting workout on Instagram, where the heavily pregnant Snooki is holding her own against three seemingly non-pregnant gym goers.
Well don't we all feel lazy.
This is the second video she has shared of her crazy gym exploits - last week we were treated to a clip of her lifting her entire body up on a weight machine.
Snooki's second child is due in the autumn; when she is also due to marry fiancé Jionni LaValle. The couple's son, Lorenzo, was born in 2012.