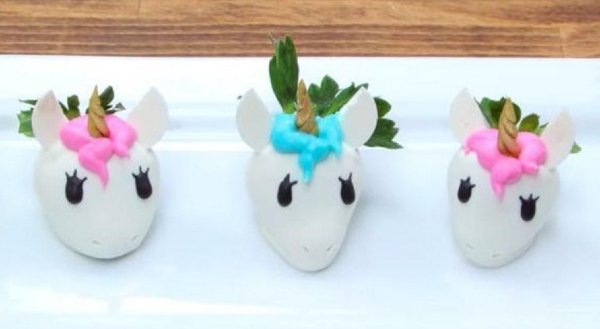 Do you have a celebration coming up, but have no idea what to serve at the event?
Well, we have the perfect party food for you, and it is a MAGICAL recipe.
None of us can deny the fact that unicorns are so popular right now, so it seems only right that we would include them in our food repertoire.
Whether it is a kid's birthday party, or an evening in with the girls, unicorn dipped strawberries are the snacks you need.
Check out the recipe...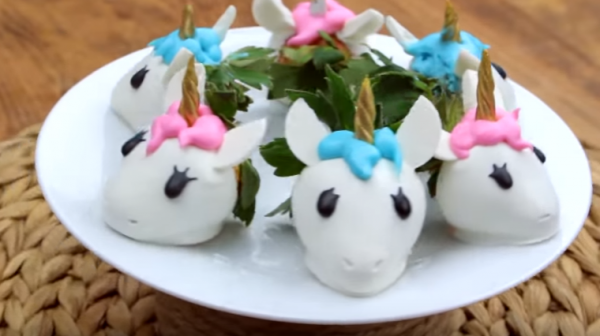 What you'll need:
White chocolate, melted
Large strawberries at room temperature, dried thoroughly
Fondant, shaped into small triangles for the ears and small cones for the horns
Edible glitter to sprinkle on horns
Vanilla butter cream in a piping bag
Sprinkles
Dark chocolate, melted.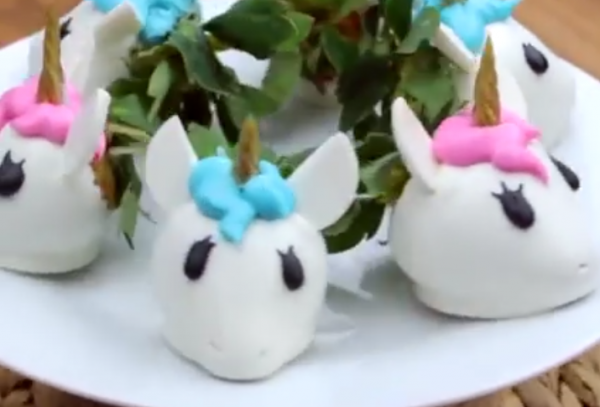 What you'll do:
Holding the strawberries at the stem, dip the fruit in the melted white chocolate, leaving the stem exposed.
Shake off extra chocolate and carefully place on a baking sheet.
Slowly place the fondant ears on the top right and left of the strawberry, just below the stem.
Add the glittery horn in between the ears.
Form the mane of the unicorn by piping butter cream on top of the strawberry, behind the horn.
Carefully add a few sprinkles to the mane, for some extra pizzazz.
Allow to set in the fridge for 20 to 30 minutes.
ENJOY!
SHARE if your little ones would love these treats.