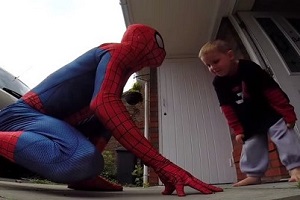 Jayden Wilson, the five-year-old son of 'The Amazing Spider-Dad', sadly passed away on Christmas Eve.
Little Jayden, who had been battling brain cancer, captured hearts all over the world after being surprised by one of his favourite heroes, Spiderman, on his birthday.
Spiderman was, in fact, Jayden's dad Mike, who dressed up as the superhero and arrived at his front door during his fifth birthday party.
At the time, Mike said: "I'm so proud to do this for him. Today he is still fighting all the way, but at least he has Spiderman to take care of him."
The tragic news of Jayden's passing was shared on his Facebook page, Hope for Jayden, with the message reading:
"Jayden fought an amazing battle. By far he was the bravest person we know. But unfortunately, late on Christmas Eve, Jayden died peacefully in his sleep, warm in his bed. He looked so relaxed with a very subtle grin on his face. We believe he waited to be out of hospital to be with his family in the safest place he knew."
Such tragic news. Our thoughts are with Jayden's family at this sad time.