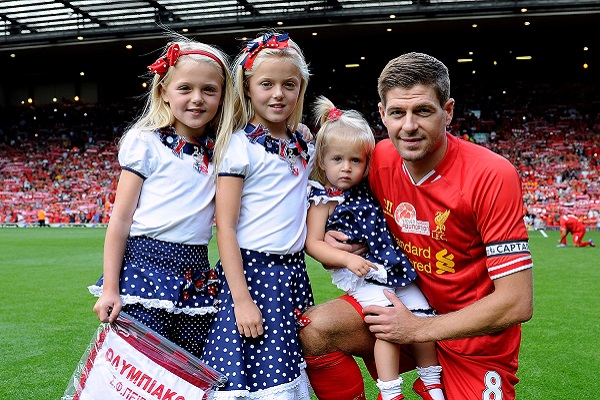 When we were six years old, our birthday was one of the most exciting days of the year. We couldn't wait to post our invitations to our classmates. Picking a cake was one of our most important decisions. To us, birthdays are all about celebrating with our family and friends.
Receiving presents is a major bonus, especially when you're six years old. However, one six-year-old has been seriously treated for her birthday by her very famous father.
Steven Gerrard has splashed out on a gift for his daughter Lourdes' birthday. The footballer spent £1,445 on an 18-karat rose-gold iPad for the birthday girl!
Fans have hit Steven with a wave of backlash over the pricey present, crticising him for showing off his wealthy lifestyle.
He proudly shared a photo of his daughter's present on Instagram, "Thanks @idesigngold for Lourdes 18k rose gold iPad with deep engraving."
The iPad has a special message engraved on it which makes the gift extra-special, "Lots of love, Mum and Dad."
The sports star may have been delighted with the gift, but people were not impressed to see how much he spent on his young daughter's present.
Many fans were stunned by Steven's boastful post, "I really like this couple and always thought he was very down-to-earth! But this is just so ridiculous for a six-year-old! What will she expect to receive next year?"
Another slated the dad, "I love Stevie, but holy hell, this is stupid for a six-year-old when so many are going without food."
Fans felt like it was extremely low of Steven to broadcast his wealthy lifestyle to his 6.5 million followers.
Many people disagreed with the wave of negative comments, however. Some parents expressed their support for Steven, and said that the millionaire may as well spend his money on his kids.
"It's up to Stevie to spend whatever he wants on his children, he does a lot for charity," one stated.
Another tried to lighten the situation by asking one witty question, "Do they sell them in Argos?"
What do you think, mums? Has Steven spent too much on his daughter's present? If you were in Steven's position, would you spend thousands on your children's presents? Or would you stick to a budget to teach them about the value of money?
Let us know what you think!